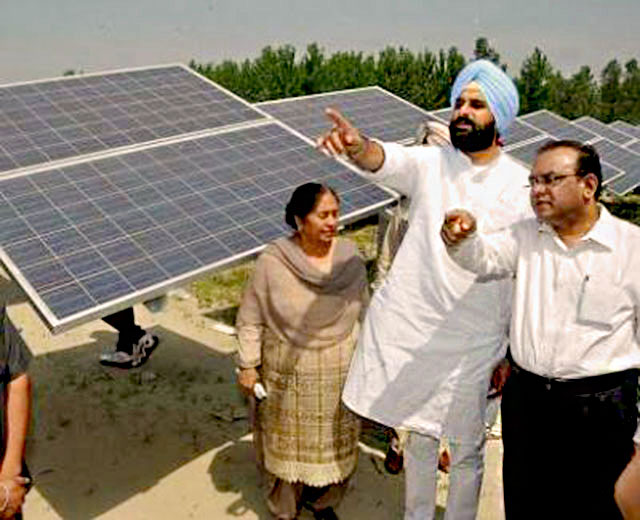 Lalpur, a village in Hoshiarpur district of the Indian state Punjab, has completed a satellite-controlled solar power plant. It is being claimed to be a first in India.
The Times of India has reported that the single axis tracking, east–west tilt technology-based, solar power plant has been installed by Mumbai based Aditya Medisales, which is part of Sun Pharma.
The project which has taken an investment of Rs 35 crore will produce 4.2 megawatts of electricity.
The system is eight percent more efficient compared with traditional solar modules.
Punjab had set its solar power generation target at more than 4200 MW by 2022. Companies have already invested about Rs 1,300 crore in solar projects in the state and more than Rs 1,700 crore is in the pipeline.
The state has reportedly received more than 1,500 Applications for net metering of rooftop solar installations and the Government was going to further promote the concept.
Six grid connected
In another development, power distribution companies operating in Delhi have connected six rooftop solar projects totaling 86 KW of solar power to their grids.
Recently the New Delhi Municipal Council (NDMC) introduced a scheme allowing rooftop solar projects with net metering.
It gave households and commercial establishments the option to produce and consume the electricity from rooftop solar panels besides feeding any surplus produced into the grid.
The connected projects fall under the network of BRPL and BYPL, both discoms owned by Reliance.
Five projects — four household and one commercial — fall under BRPL. The four households are in Kailash Colony, Pushpanjali, Greater Kailash III and Pushp Vihar.
The sixth project, a 20-KW project at East Point School in Vasundhara Enclave, comes under BYPL.
According to the net metering policy of Delhi, the amount of power a project supplies and consumes from the grid is metered. If the consumer draws more than what he supplies, the difference will be billed.
Ajith Kumar S