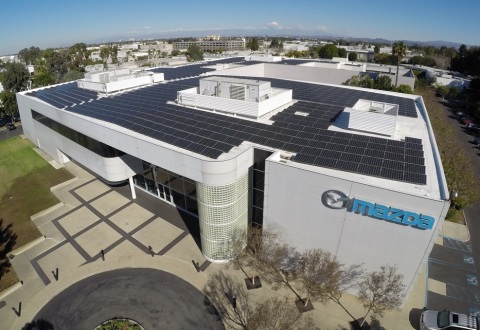 Mitsubishi Electric is supplying photovoltaic (PV) modules to power the automotive research and development at Mazda North America's Research & Development facility in Irvine, Calif.
The company has supplied Mazda with 1222 PV modules  for a 317kW solar electric system that is expected to deliver half of the facility's power needs, while cutting its electric bill in half, the company said.
The solar PV installation was carried out by Sun Integration of Sherman Oaks, Calif. It also includes a Solectria Renewables inverter and Orion Solar Racking. The PV system is estimated to supply more than 489,684 kWh annually.
The project was financed in part by the federal business energy investment tax credit and the California Solar Initiative rebate.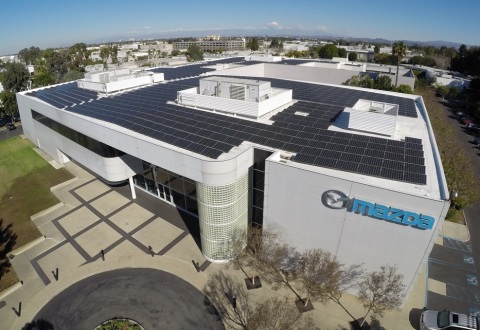 The clean energy produced over a period of 25 years will prevent an estimated 18.6 million pounds of CO2 from entering the atmosphere – equivalent to the emissions resulting from burning 19,625 barrels of oil.
"Diversifying our energy sources and using them efficiently is part of Mazda's environmental charter to maintain harmony with nature in our business activities worldwide," said Jim O'Sullivan, president and CEO for Mazda North American Operations.
"In addition, as a result of powering this building with solar, we can direct our utility bill savings toward further investment in automotive research and development," O'Sullivan added.
Mazda's investment in clean technologies complements the company's core environmental initiative: to maximize driving efficiency while keeping this technology affordable for everyone. The company has accomplished this in vehicles such as 2014 Mazda3, 2014 Mazda6 and the first vehicle to debut with the full-suite of SKYACTIV, CX-5.
"Mitsubishi Electric prizes our long-standing relationship with Mazda, a valued customer worldwide," said Katsuya Takamiya, president and CEO of Mitsubishi Electric US.
"We're pleased to help strengthen the performance of Mazda's North American Operations by supplying our solar modules, which represent the top quality Mazda has come to expect from Mitsubishi Electric," Takamiya added.