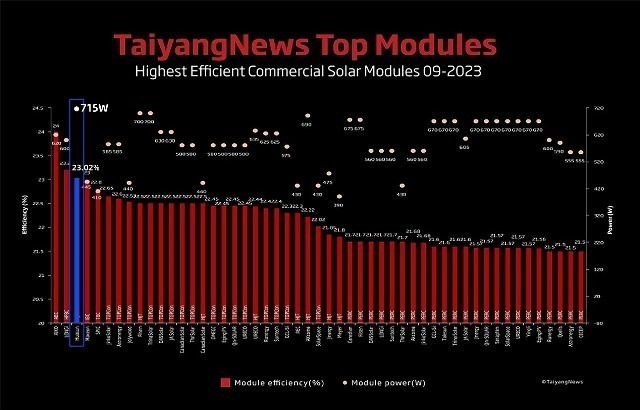 In the latest TaiyangNews TOP SOLAR MODULES list for September, Huasun Energy has surged to the 3rd position among 51 modules, marking a significant achievement following a nearly 0.5 percentage point boost in efficiency to an impressive 23.02 percent.
The standout product from Huasun Energy, the 715W HJT module within the Himalaya G12 series, has been specifically designed for utility-scale applications. Remarkably, Huasun's Himalaya G12-132 solar module (Model No.: HS-210-B132DS) stands as the sole product in the top 3 utilizing the cutting-edge n-type high-efficiency heterojunction technology (HJT). Moreover, with a power rating of 715W, it claims the highest power output across the esteemed list, showcasing its technological superiority.
Efficiency and power output are fundamental parameters defining a solar module's performance. While enhancing power output can be achieved through various means like incorporating larger cell sizes or increasing cell count, efficiency truly underscores a module's ability to convert sunlight into power per unit area. This emphasizes why only solar modules with the highest efficiency are featured in this coveted list.
Huasun's Himalaya G12-132 modules boast a range of advantages, encapsulated by 'four highs' – high efficiency, high power, high bifaciality, and high reliability – along with 'four lows' – low temperature coefficient, low attenuation, low Levelized Cost of Electricity (LCOE), and low carbon emissions. These features make them ideal for large-scale utility solar power plants, and the 715W modules have already been successfully implemented in several PV projects.
Huasun Energy takes pride in being the exclusive module manufacturer recognized for an efficiency exceeding 23 percent and a power output surpassing 700W, establishing itself as the leading performer in the HJT sector, excelling in both efficiency and power. The company remains committed to further expanding HJT capacity, enhancing efficiency, reducing costs, and fostering collaboration within the value chain. Through these efforts, Huasun aims to expedite the industrialization of high-efficiency N-type heterojunction modules and propel the photovoltaic industry towards high-quality development.