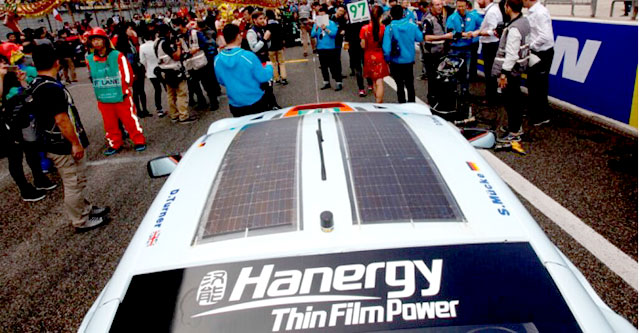 Hanergy Thin Film Power Group, Shandong Taian Changan Catering Equipment and Suzhou Yigao Electronic Vehicle Manufacturing — all Chinese companies — are collaborating to produce solar panel-equipped catering and sightseeing vehicles.
Hanergy's thin-film panels for catering vehicles are to generate 6 kilowatt-hours of electricity a day in normal sunlight. These will power lighting, refrigeration and cooking appliances in vehicles outfitted for catering.
The sightseeing vehicles of Yigao, in turn, will deploy 75-watt panels from MiaSole, a wholly owned subsidiary of Hanergy, to generate 2 kilowatt-hours a day of electricity in normal light.
According to Yang Jinsong, the executive president of Hanergy Product Development Group, the company was pushing the boundaries of what can be powered by the sun.
In February, Hanergy projected its market for thin-film cells designed for electric vehicles to grow to 46 gigawatts by 2020.
It was also looking at another 37 gigawatts of capacity addition on electronic products such as smartphones.
"Thin-film power generation is the ultimate way people will use energy," Li Hejun, the chairman of Beijing-based Hanergy Holding Group, has stated.
Earlier this year, Hanergy had expressed interest in partnering with vehicle designers to develop solar-powered cars it aims to roll out by October.
Last August, the company completed the purchase of US-based Alta Devices to accelerate commercialization of the company's thin-film solar technology.
Hanergy has claimed to have achieved a conversion efficiency — the ratio of energy produced by the cell compared with the energy received from the sun — of 30.8 percent from its thin-film solar technology.
Ajith Kumar S
editor@greentechlead.com