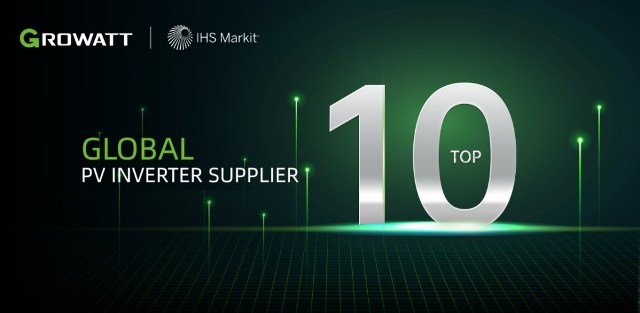 Growatt has consolidated its market-leading position as one of the world's top 10 brands in global PV inverter market.
Global PV inverter shipments increased by more than 35 percent in 2020 despite the pandemic according to IHS Markit's latest PV Inverter Market Tracker.
Growatt shines
In 2020, Growatt continued to be the top Chinese supplier of residential inverters, ranking third globally.
"For distributed solar energy, especially residential, Growatt has competitive advantages over other brands. Our products and solutions are highly trusted and are extremely popular in mature solar markets like Europe and Australia as well as emerging markets like Brazil," said Lisa Zhang, Marketing Director at Growatt.
Growatt also ranked among the world's top 5 suppliers of three-phase string inverters for commercial and industrial solar PV projects.
Growatt has achieved this position thanks to its product innovations and localization strategy. Growatt has established an extensive service network with 20 offices and warehouses worldwide.
Growatt had shipped over 2.6 million inverters to more than 100 countries. The company has developed the new X inverter series that feature sleek and compact design as well as safer and smarter functionalities.
Growatt has built a new factory in Huizhou, China with with 20GW annual output to boost production capacity.