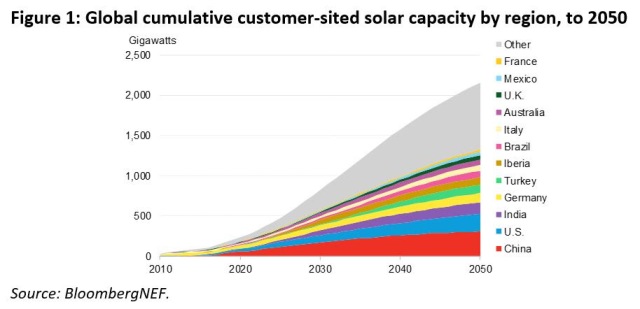 167 million households and 23 million businesses are likely to install customer-sited solar for their own clean power generation by 2050, according to a joint report by research firm BloombergNEF (BNEF) and Schneider Electric.
The report Realizing the Potential of Customer-Sited Solar finds that falling costs of solar technology have already made it economical for homes and businesses to generate their own power in some markets.
In Australia, the payback period for households investing in solar has been favorable, at less than 10 years, since 2013. As a result, adoption has already taken off, with more than 2.5 gigawatts of residential solar added in 2020 alone.
In France, residential solar can earn internal rates of return of around 18.5 percent (a five-year payback), and commercial installations achieve 10.4 percent IRR (or a nine-year payback). This has stimulated gradual growth in the market, to about 500 megawatts of installations in 2020.
A key consideration at the early stage of market development is to avoid an unsustainable boom. Policy designs should account for the fact that solar costs will continue to fall over time, and moderate support to reflect these changing dynamics.
In California, the economic case for adding residential solar on existing homes is good at 20 percent IRR, but the new report estimates that this figure is twice as high, at 40 percent IRR, when solar is added at the point of construction. In France, the IRR for residential solar could be boosted to 28 percent when added during new construction.
In California, reducing export rates to 35 percent of retail tariffs, while it would damage the economics of solar overall, would shift the emphasis over to solar systems paired with storage, which would still generate a 13 percent IRR. For commercial and industrial installations, adding aggregation payments for batteries would boost IRRs to 22.8 percent, making solar-plus-storage a more attractive option than solar alone.