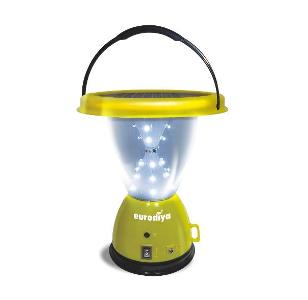 By
Greentech Lead Team: Eureka Forbes, a leading water purification company in
India, has launched solar energy based products in the country.
The
newly formed brand will focus on solar lamps as the first introduction and
product offering by the company.
With
the launch of EuroDiya, Eureka Forbes adds a new channel in its product
portfolio diversifying across water purification, vacuum cleaning, home
security, air purification and now solar products.
Eureka
Forbes has tied up with US based Nokero to bring its cost effective,
environmentally friendly and technologically advanced solar bulbs to suit the
consumer needs of urban and rural India.
EuroDiya
aims to provide alternative sources of lighting at an affordable cost and solve
power woes of India to a considerable extent. The solar lamps will be available
in 3 forms; bulbs, lanterns and torches, ranging in price from Rs 599 to Rs
2,499 based on model and features and will be available across India through
the company's service team, retail shops, online portals as well as
institutional sales.
"Power
deficit is the biggest cause of concern in India as traditional energy sources
are becoming extinct day-by-day. We are happy to see that India is ushering
towards green energy solutions as the pressure on traditional energy sources
increases. Our latest addition EuroDiya to the family of Eureka Forbes is a
clean and sustainable energy solution for the power woes of every Indian," said
Suresh Goklaney, executive vice chairman, Eureka Forbes.
In
India, about 63 percent of the total rural households do not have electricity
and use kerosene for lighting which causes substantial pollution, health risks
to users, including to respiratory, visual and nervous systems as well as fires
which cause injuries, property damage and even deaths.
Even
urban areas in the country that are connected to electricity grids are facing
frequent power outages making it difficult for people to work, study and do
their daily chores smoothly. Keeping these factors in mind, Eureka Forbes
introduced EuroDiya to strike a balance between sustainability and
affordability.
"Solar
energy is generally provided at a higher cost making it financially unfeasible
for people to use. We at Eureka Forbes have always believed in spreading
happiness in the lives of people through our cutting edge technologies and
innovations. EuroDiya's novel technology and cost efficiency will make it
possible for Indians to use solar lamps in their daily lives and will also
encourage for social entrepreneurship to a substantial extent in the country,"
said AV Suresh, president – International Operations, CEO – Forbes
Professional, Eureka Forbes.