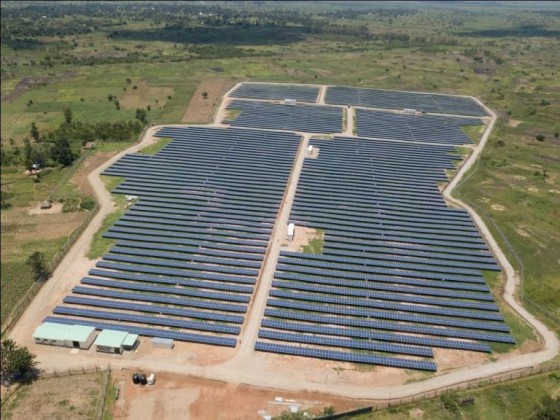 Building Energy, a Globally Integrated IPP (Integrated Power Producer) in the Renewable Energy Industry, has opened the Tororo Solar Plant, its first photovoltaic system in Uganda.
With a capacity of 10 MWp (16 GWh per year, the Tororo Solar Plant is among the largest in Eastern Africa. It is located at around 10 km from the border with Kenya.
Building Energy was also responsible for the development of the project, arranging the financing, as well as the construction and commissioning of the plant.
The facility consists of 32,240 photovoltaic panels distributed over a 14 hectare site. It caters to the energy needs of more than 35,838 people.
In addition to covering the community's energy needs, the Tororo Solar Plant will foster clean industrial development in the town of Tororo and at the same time save atmospheric emissions of more than 7,200 tons of CO2 per year, corresponding to the consumption of around 2,800 petrol-powered cars.
Likewise the Soroti Solar Plant, which began operation last December, the Tororo Solar Plant was developed under the Global Energy Transfer Feed in Tariff (GET FiT), which helps renewable energy sources become more affordable and therefore more accessible in Eastern Africa.
The EU-Africa Infrastructure Trust Fund has provided funds through the GET FiT Solar Facility equivalent to 708 million euros in the form of a top-up payment per kWh of delivered electricity over 20 years.
The overall $19.6 million construction investment at Tororo was partially funded by FMO, the Dutch development bank which, as Mandated Lead Arranger, coordinated the provision of a $14.7 million term loan facility.
With the Tororo Solar Plant going into operation, Building Energy's total installed capacity in Africa has risen to 91 MWp.
Matteo Brambilla, managing director Africa and Middle East at Building Energy, said, "At 18.2 percent, Uganda's average electrification level corresponds to one of the world's lowest per capita electricity consumption rates. The Tororo photovoltaic park makes it possible not just to provide electricity to the local community, but also act as a driver of the city's industrial development."
Rajani Baburajan
editor@greentechlead.com