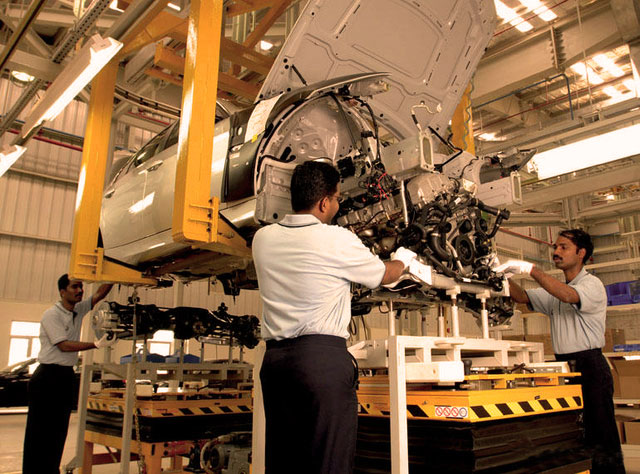 German luxury carmaker BMW plans to establish a solar power project at its factory in Chennai, India, by 2016.
The project would help the Munich-based auto major meet 20 percent of the electricity needs of the factory. At present the factory has a rooftop solar farm that provides for 6 percent of the electricity needs at the factory.
BMW is expected to invite bids from solar power project developers in the first quarter of next year, Bloomberg has reported quoting Robert Frittrang, the managing director of BMW's Chennai factory.
According to Frittrang, electricity from the solar plant would work out to be cheaper compared with supply from the grid as tariff on power from solar farms is fixed for five years.
BMW has been working towards greater use of renewable energy both in its products and its production facilities. The company ranked highest in the Dow Jones Sustainability Index as the world's most sustainable automobile manufacturer for the ninth time in 2014.
At Leipzig the company powered its manufacturing facility for the BMW i series entirely from renewable energy sources. Also, the company claimed it brought down energy consumption required to produce each BMW i3 at the plant by 50 percent. It also cut down water consumption for production of these models by as much as 70 percent compared with the BMW Standard.
BMW's initiative at Chennai is in line with India's plan to quadruple renewable power capacity to 175 gigawatts by 2022.
Reserve Bank of India, too, included renewable energy projects in its priority lending portfolio in April hoping to facilitate quicker growth of renewable energy industry.
Indian Railways has also announced plans to introduce solar energy plants to the tune of 1,000 megawatts at its facilities by 2022.
When multinational companies such as BMW are also pitching in along with other domestic agencies and entrepreneurs to embrace renewable energy it appears the plan that Minister for Coal, Power and Renewable Energy Piyush Goyal proposed to double India's renewable energy share to 15 percent in five years may not be unachievable.
Ajith Kumar S
editor@greentechlead.com