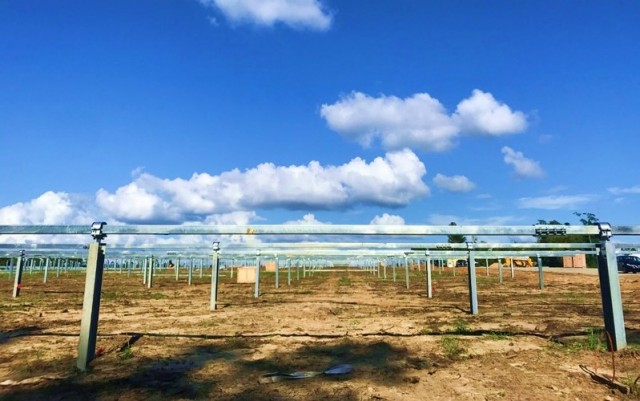 Arctech, a global leader in solar tracking, racking, and Building-Integrated Photovoltaics (BIPV), has recently inked a groundbreaking 240MW solar tracker supply contract with China Energy Engineering Corporation (CEEC) for a solar photovoltaic generation plant project situated in Uzbekistan's Tashkent region.
This landmark deal marks Arctech's third successful project in Uzbekistan, solidifying their presence and contributions to the country's renewable energy landscape.
The previous ventures undertaken by Arctech in Uzbekistan include the monumental 1 GW solar PV project in Qashqadaryo Viloyati and Buxoro, as well as the sizable 500MW solar PV project in Sherabad. These endeavors reflect the company's unwavering commitment to advancing sustainable energy solutions in the region.
Arctech's cutting-edge SkyLine II Solar Tracking System will be the cornerstone technology utilized in this latest project. Distinguished by its pentagonal torque tube and synchronous multi-point drive mechanism, SkyLine II stands out as one of the industry's most robust single-axis trackers. This design not only enhances the system's structural integrity but also ensures maximum stability across all tracking angles. Additionally, it allows for a significant reduction in the number of support posts, with less than 180 posts per MW, thereby trimming Engineering Procurement Construction costs by approximately 2 percent.
What sets SkyLine II apart is its innovative "multi-drive" mechanism, enabling safe horizontal stowage. This feature proves pivotal in reducing wind pressure on the latest large-format photovoltaic modules, thereby minimizing the risk of cracking and delamination. Furthermore, the superior stow parameters extend the operational wind speed range, resulting in optimized energy production and revenue generation.
Uzbekistan, historically reliant on coal and natural gas for over 85 percent of its electricity generation, has been actively pursuing renewable energy solutions to address energy shortages and reduce dependence on fossil fuels. The government's ambitious goal is to increase solar energy capacity by 5GW by 2030. Arctech's ongoing success in Uzbekistan is attributed to its high-caliber products and innovative technology, earning recognition and trust from Central Asian stakeholders.
This recent 240MW solar tracker supply contract further solidifies Arctech's pivotal role in the Central Asian renewable energy market, underscoring their dedication to fostering sustainable energy solutions on a global scale.