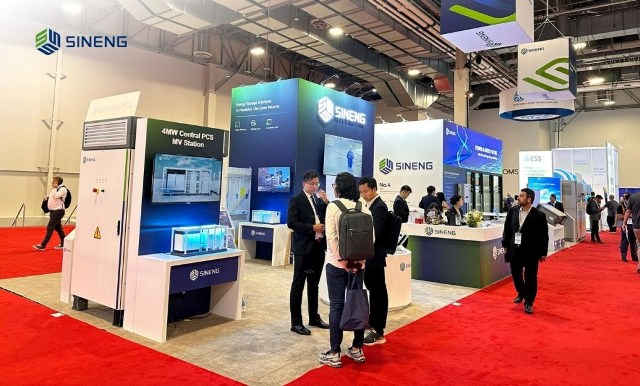 Sineng Electric, a leading global manufacturer of PV and energy storage inverters, has showcased its next-generation product portfolio at the RE+ 2023 expo. These cutting-edge innovations have been meticulously crafted to align with America's ambitious objective of reducing the cost of solar energy by 60 percent within the next decade.
Taking center stage at the RE+ 2023 exhibition were the 3.6/3.75MW central inverters, a game-changer in the quest for optimal Levelized Cost of Electricity (LCOE). Featuring 2 Maximum Power Point Trackers (MPPTs) and a high DC/AC ratio, these inverters are designed to maximize efficiency. The product lineup extends to the 3.6/3.75MW MV turnkey stations, complete with an integrated medium-voltage transformer. Engineered for ultimate convenience, their compact 20-ft container size and pre-assembled design simplify both the delivery process and subsequent commissioning procedures.
One of Sineng Electric's standout offerings is the SP-350K-USH string PV inverter solution, which exemplifies versatility across various scenarios. With 12 MPPTs, support for up to 32 strings, and a flexible DC/AC ratio, this product is tailor-made to meet the diverse needs of customers. Its impressive California Energy Commission (CEC) efficiency rating of 98.5% ensures superior performance and higher yields.
Utility-Scale Energy Storage Solutions to Optimize LCOS
A highlight of Sineng's showcase is the 3.45/4MW MV turnkey station, comprised of two units of 1.725/2MW central Power Conversion Systems (PCS) and a transformer. This solution is designed to be compatible with batteries above 306Ah. Featuring phase change heat dissipation, a NEMA type 3R protection rating, and PCS efficiency of up to 98.9%, the 3.45/4MW MV turnkey station represents an impeccable fusion of efficiency, reliability, and safety.
The spotlight also falls on the 2.4-4MW MV turnkey stations, an assembly of 200kW string PCS. The incorporation of rack-level battery management translates into enhanced charging and discharging capacity, while the modular design expedites on-site replacements, significantly increasing system availability.
Mr. Qiang Wu, Chairman of Sineng Electric, expressed the company's commitment to redefining industry boundaries and driving change in the pursuit of a more environmentally-conscious future. He stated, "Through our wide range of offerings, which cater to diverse needs, Sineng Electric strives to redefine industry boundaries, foster changes, and act as a driving force in the journey towards a more environmentally-conscious future."
Sineng Electric's innovative solutions are poised to play a pivotal role in supporting the United States' efforts to make solar energy more affordable and accessible for all, ultimately contributing to a greener and more sustainable future.