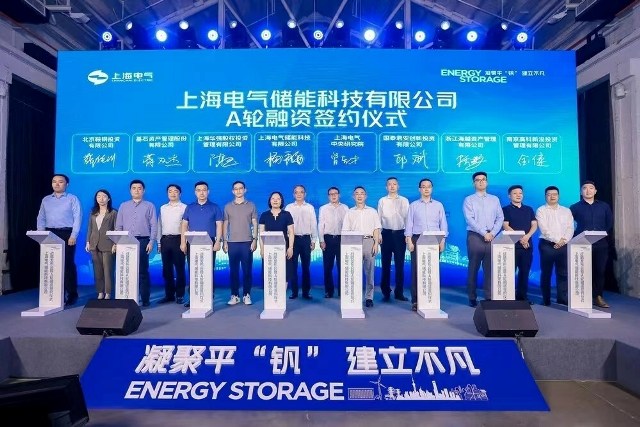 Shanghai Electric Energy Storage Technology, the energy storage subsidiary of Shanghai Electric, has successfully raised RMB 400 million in Series A financing, marking a significant milestone in advancing its Energy Storage business.
The funds will be allocated to propel research and development, enhance the industrial supply chain, construct 100Mbps stacks for megawatt container-type vanadium redox flow battery (VRFB) energy storage systems, and strengthen capital access.
This round of financing will not only be instrumental in fortifying corporate governance mechanisms but will also facilitate talent acquisition, augment research and development capacities, and bolster innovation efforts. Upon completion of this funding round, the post-investment valuation of Shanghai Electric Energy Storage is projected to exceed 2.2 billion yuan.
Jin Xiaolong, Vice President of Shanghai Electric Group, outlined the company's trajectory, asserting its goal to ascend as a global leader in long-term electrochemical energy storage. The company intends to intensify technological innovation, advance the deployment of 100-megawatt projects, demonstrate leadership in key projects, and foster collaboration within the energy storage industry.
After over a decade of technology development and three years of industrialization, Shanghai Electric Energy Storage Technology has firmly established itself in the long-term energy storage sector, achieving significant milestones in functional product development, reliable manufacturing, and intelligent operations and maintenance.
Their flow battery energy storage products, ranging from kW-level to MW-level, find versatile applications in new energy power generation and grid integration, grid-side energy storage, distributed smart microgrids, and more. The company has notably developed 5kW/25kW/32kW/65kW series stacks and executed over 50 vanadium redox flow battery (VRFB) energy storage projects.
Shanghai Electric's development strategy centers around "4 plus 2" emerging fields bolstered by advanced technologies, with a primary focus on "wind-solar-hydrogen-storage" integration. The company is also channeling its efforts towards the industrial direction of industrial intelligence equipment to efficiently integrate resources. This strategic alignment with energy storage technology companies will reinforce Shanghai Electric's rapid strategic development.
Empowered by this substantial financial backing, Shanghai Electric Energy Storage Technology is dedicated to advancing breakthrough system research and development, expanding production lines, and spearheading the construction of 100-megawatt projects. Furthermore, the company aims to deepen its industrial collaborations and expedite industrial upgrading, cementing its position as an industry pioneer.
Looking ahead, Shanghai Electric Energy Storage has set its sights on launching a Series B financing campaign in 2024. Additionally, the company envisages commencing the listing process on the esteemed Science and Technology Innovation Board in 2026, further solidifying its status as an industry trailblazer.