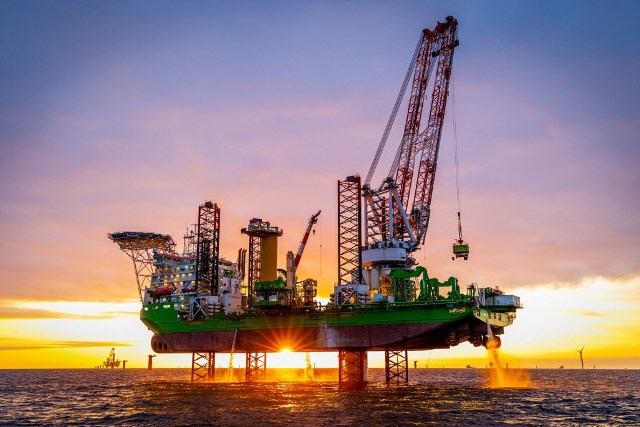 Seadronix, a frontrunner in artificial intelligence (AI) solutions tailored for the maritime sector, has achieved a remarkable feat by securing a coveted tender against major maritime conglomerates. The company clinched the contract to implement its AI situational awareness solution on a wind turbine installation vessel (WTIV), marking the pioneering installation of such a system on this vessel type anywhere in the world.
The selected vessel, weighing an impressive 14,000 tons and owned by a major international conglomerate, is slated to have the state-of-the-art system operational by year-end. Seadronix's solution comprises on-edge AI processing sensor modules that will furnish real-time AI-enabled situational awareness data to the vessel's crew.
Wind turbine installation vessels demand meticulous navigation and close proximity to offshore structures, posing inherent operational challenges. Seadronix meticulously tailored their product to meet these stringent requirements, particularly focusing on measuring the distance between the vessel and the wind turbine installation site's structure. The company's innovative AI recognition technology is anticipated to elevate offshore work safety and efficiency significantly. It will achieve this by offering a comprehensive 360-degree view during operations and real-time insights into nearby objects detected through the system's sensors.
Byeolteo Park, Seadronix's CEO, expressed pride in clinching the contract to deploy their AI solution on a wind turbine installation vessel, coinciding with their selection for the prestigious Forbes Asia 100 to Watch list. Park stated, "Seadronix is proud to have won the contract to supply our AI solution to a wind turbine installation vessel on the same day we were chosen for the Forbes Asia 100 to Watch list. We are glad that we can support the expansion of renewable energy and respond to the climate change crisis by contributing our smart solutions for a safer and more efficient maritime industry."
Seadronix's AI-enabled solutions have found applications across diverse ship types, including research vessels, fisheries management ships, tugboats, and very large crude carriers (VLCCs). Their foray into AI solutions for wind turbine installation vessels signifies a groundbreaking stride, positioning Seadronix as a trailblazer in AI-enabled smart solutions within the maritime sector. As the maritime industry embraces technological advancements, Seadronix is primed to lead the charge toward safer and more efficient maritime operations through cutting-edge AI integration.