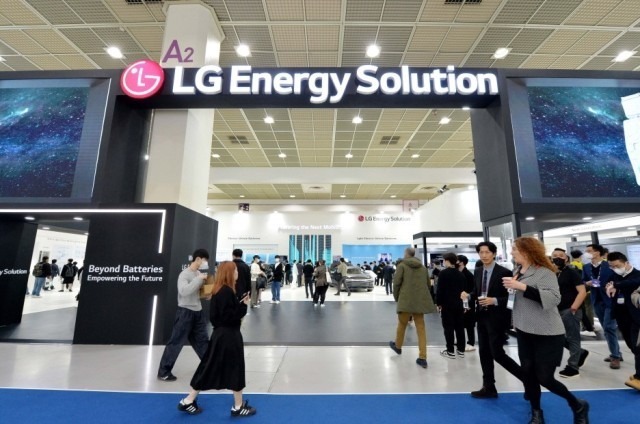 LG Energy Solution, a global leader in lithium-ion battery manufacturing, has unveiled its ambitious strategies for the U.S. energy storage market during RE+ 2023, the renewable energy industry's premier global trade fair held at the Venetian Convention and Expo Center in Las Vegas. These strategies are poised to capitalize on the rapid growth of the energy storage sector in the United States.
Seungse Chang, the head of the ESS business division at LG Energy Solution, emphasized the company's commitment to triple its global revenues from ESS (Energy Storage System) products within five years. Chang announced a significant investment of USD 2.3 billion in the U.S. to support this endeavor, with additional investments planned. He stated, "We believe that our journey here will speed up clean energy transition in the U.S."
The global ESS market is witnessing remarkable expansion, driven by innovative and sustainable energy policies. In the North American market, the energy research firm Wood Mackenzie predicts that it will grow from 12 GWh in 2022 to an impressive 103 GWh by 2030.
LG Energy Solution's strategies for the U.S. market unveiled at RE+ 2023 include:
Large-Scale ESS Battery Production in the U.S.: LG Energy Solution will establish a large-scale ESS battery production facility in Queen Creek, Arizona, with production slated to begin in the first quarter of 2026. This facility will have a production capacity of 16 GWh, with potential for further expansion based on demand.
Localized Supply Chain for IRA Benefit Eligibility: LG Energy Solution is committed to localizing the entire supply chain, making its products IRA (Investment Tax Credit) compliant. This ensures that customers receive an extra 10 percent IRA investment tax credit.
Competitive Edge in LFP Technology: LG Energy Solution plans to expand its product range with advanced Lithium Iron Phosphate (LFP) batteries, known for their reliability, longer life cycles, and high cell-level efficiency. They will provide immediate on-site support in addition to remote quality control for after-service.
Fully Integrated System Solutions: LG Energy Solution aims to become a fully integrated system solution provider for ESS, offering standardized containers with a plug-and-play system. The company will also develop data-driven software solutions in collaboration with LG Energy Solution Vertech, a subsidiary specializing in system integration.
At the RE+ exhibition, LG Energy Solution showcased innovative products and solutions that can reshape the energy storage landscape in North America:
LFP Liquid Cooling Container for Grid-Scale Use: This cutting-edge modular system offers a capacity of 4.76 megawatt-hours and utilizes water cooling for reduced maintenance costs and an extended product lifespan.
LG Energy Solution enblock S and S+: Designed for residential use, these products offer stackable designs that seamlessly integrate with the aesthetics of homes. They allow for easy augmentation of battery capacity, accommodating various energy needs.
Prime+: An intelligent choice for solar power systems, Prime+ integrates seamlessly with existing photovoltaic setups, providing partial or whole home backup without separate ESS products.
LG Energy Solution envisions a future where energy storage solutions empower consumers and promote clean energy adoption. Their commitment to innovation and sustainability positions them at the forefront of the evolving energy storage industry.