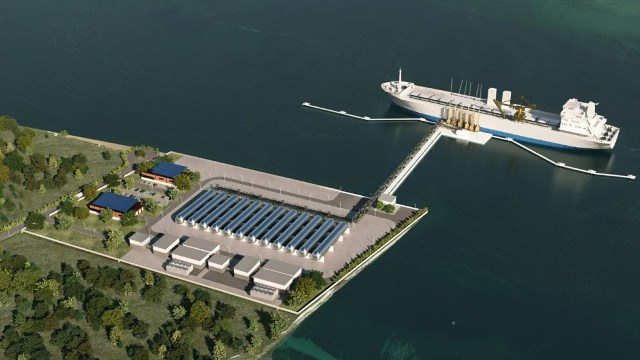 Carbon Centric and Fidelis New Energy Europe have taken a significant step towards advancing carbon emission reduction efforts in Northern Europe. The two companies have officially signed a letter of intent, outlining their collaboration to store CO2 emissions from Carbon Centric's clients using Fidelis' recently unveiled Norne Carbon Storage Hub in Denmark.
This partnership holds considerable promise for the decarbonization of smaller and medium-sized emitters in the region. The agreement is poised to facilitate carbon capture and storage ("CCS") for companies looking to lead the way in sustainable practices. Through this collaboration, captured CO2 emissions are expected to be stored by 2027, contributing to the realization of ambitious environmental targets.
Carbon Centric has outlined its plan to initiate the installation of capture equipment on its clients' facilities in 2024. The company aims to store a minimum of 800,000 tons of CO2 annually utilizing Fidelis' Norne Carbon Storage Hub by 2027. The CO2 captured by Carbon Centric will be transported to Fidelis' CO2 reception facility located at the Port of Aalborg.
Carbon Centric has already established itself as a leader in carbon management, with ongoing capture projects in Norway and Iceland, alongside prospective projects in Denmark and Sweden. Fidelis, on the other hand, announced the Norne Carbon Storage Hub on May 15th, 2023 — an onshore CO2 storage network in Denmark. Norne is set to begin CO2 storage operations in 2027 for Carbon Centric, with an ambitious goal of storing over 20 million tonnes per year by 2030.
This partnership aligns with Carbon Centric's mission to offer low-cost carbon capture solutions for waste and biomass combined heating and power plants. The company aims to build, own, and operate carbon capture plants for smaller facilities, allowing asset owners to reduce emissions without extensive investment costs.
Kenneth Juul, Chief Commercial Officer and Co-Founder of Carbon Centric, expressed his excitement about the partnership: "With Denmark's foresight of moving quickly toward onshore carbon storage and with Fidelis' plans and prior three years of work on the Norne vision…we see a great opportunity to expand our activities in Denmark."
Ulrik Weuder, Managing Director of Fidelis New Energy Europe, noted, "We are thrilled to be able to provide a safe and cost-effective decarbonization solution for Carbon Centric and their clients." He added that the Norne Carbon Storage Hub enables environmentally friendly decarbonization of crucial industries while maintaining global competitiveness.
The partnership between Carbon Centric and Fidelis New Energy Europe holds promise for advancing sustainable practices, enabling significant carbon emission reduction, and contributing to the decarbonization of Denmark and Northern Europe.