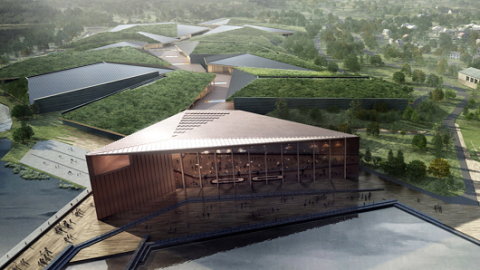 Kolos, a U.S.-Norwegian company, announced it is building the largest data center in the world in Ballangen, Norway, 140 miles (225 kilometers) north of the Arctic Circle.
The facility – slated to open 2018 – is a brand-new class of hyper-scale data center, with sustainability, cost-effectiveness and security at the core of its design, construction and operations, the company said.
"The Kolos project will be the largest data center in the world, and one completely powered by hydroelectric and wind power. This is the game changer that will serve as a model for the industry to reduce carbon emissions and eliminate reliance on fossil fuels," Janson added.
Kolos' facility in northwest Norway is the latest iteration in a boom of Nordic data centers servicing major network-centric Internet companies.
The 100 percent "green" data center location, with its abundant hydropower and dark fiber infrastructure, will provide for the lowest OPEX in the world. The project offers highly scalable and attractive margins, with a 50 percent cost advantage over other satellite data centers.
The planned Kolos facility will stretch over some 600,000 square meters and is designed as a four-story structure integrated into the natural environment.
Mark Robinson, Co-CEO of Kolos, added, "The team understands the importance of building the world's most powerful data center with respect for the community and environment. We can scale up to two gigawatts of excess power from hydroelectric generation facilities within 25 kilometers of the planned site. No data center on earth has access to such abundant, clean and inexpensive power."
By 2025, experts forecast that activity on the web, mobile, cloud and the Internet of Things will generate 180 zettabytes of data per year – more than 10x the data being created today. The demand is evident – and existing and future data centers in top cities are constrained by aging electrical infrastructure, high real estate prices, and lack of sustainable energy alternatives.
editor@greentechlead.com