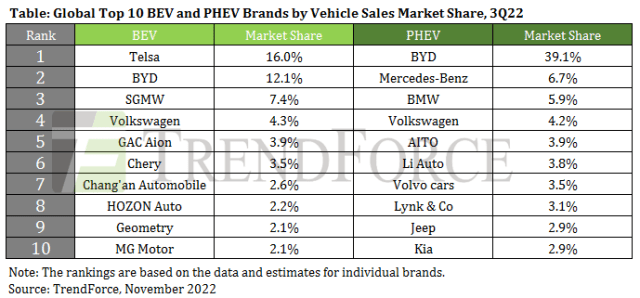 Global sales of new energy vehicles (NEVs) rose by 70 percent to 2.87 million units in Q3 2022, a research report from TrendForce said.
NEVs include battery-electric vehicles (BEVs), plug-in hybrid electric vehicles (PHEVs), and fuel-cell vehicles (FCVs).
BEV sales accounted for 2.147 million units and registered a growth of 75 percent. PHEV sales accounted for 714,000 units and registered a growth of 57 percent.
US-based Tesla took first place with 344,000 units in the global ranking of BEV brands by vehicle sales for 3Q22. While Tesla managed to maintain its market share at 16 percent, its lead over second-placed BYD in sales figure had narrowed further.
BYD sold 259,000 BEVs in 3Q22, posting a growth of 182 percent. Gap between Tesla and BYD in BEV sales has been smaller than 100,000 units for two quarters straight. SGMW and Volkswagen respectively stayed at third and fourth in the ranking.
MG Motor (acquired by SAIC Motor) and Geometry entered this group for the first time mainly thanks to the robust demand from China.
Hyundai, Kia, and XPeng Motors were pushed out of the top 10. XPeng stated that the deliveries of its new electric SUV G9 would ramp up this October. Whether XPeng will remain in the group of top 10 for 2022 depends on its performance in the fourth quarter.
BYD was at the top with 279,000 units and held a market share of 39.1 percent in the global ranking of PHEV brands by vehicle sales for 3Q22.
Mercedes-Benz rose to second place in the PHEV segment because of a gain for vehicle sales in both the home market and China.
BMW saw falling sales for its PHEVs in Europe, so it posted a decline in units and slipped down in the ranking.
Chinese brand AITO entered the group of the global top 10 PHEV brands for the first time in 3Q22 and was immediately placed fifth. AITO is a brand under Seres and in cooperation with Huawei, and its vehicle models feature many technologies from Huawei as well.