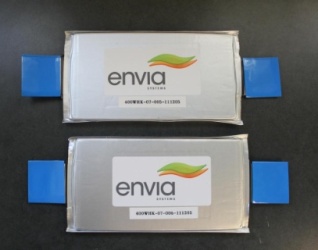 By Greentech Lead
Team: Envia Systems, a technology provider of high-performance, low-cost
lithium-ion energy storage solutions announced that its next-generation
rechargeable battery has achieved the highest recorded energy density of 400
Watt-hours/kilogram (Wh/kg) for a rechargeable lithium-ion cell.
"Since the inception of Envia, our product team has worked
tirelessly and logged over 25 million test channel hours to optimally develop
each of the active components of the battery: Envia's proprietary Si-C anode,
HCMR cathode and EHV electrolyte," said Dr.
Sujeet Kumar, co-founder, president & CTO, Envia Systems.
Envia's patented cathode, anode and electrolyte materials
enable its batteries to deliver high energy density, safety and calendar life.
These systems are used by manufacturers developing Electric Vehicles and Plug‐in
Hybrid Electric Vehicles.
Tests at various cycling rates verified Envia's automotive
battery cell demonstrated energy density between 378-418 Wh/kg for rates
between C/3 to C/10 for a 45 Amp-hour (C/3) cell.
The testing was performed by the Electrochemical Power
Systems Department at the Naval Surface Warfare Center (NSWC) in Crane, Ind.,
under the sponsorship of ARPA-E.
"Envia's new battery technology represents exactly the
kind of innovation and breakthroughs that ARPA-E is looking for from the
American research and development community. We hope that this low cost and
high density battery technology enables wide spread adoption of electric
vehicles across the country and around the world," said Arun Majumdar,
director, ARPA-E.
The company expects that the commercialization of this 400
Wh/kg battery will slash the price of a 300-mile range electric vehicle by
cutting the cost of the battery pack by more than 50 percent.
Recently, General Motors invested $7
million in Envia Systems to provide GM's battery engineering team with access
to advanced lithium-ion cathode technology that delivers higher cell energy
density and lower cost. In a separate agreement, GM has secured the right to
use Envia's advanced cathode material for future GM electrically driven
vehicles.