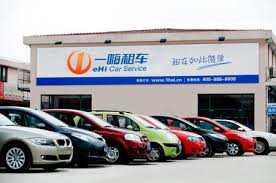 eHi Car Services of China has entered into a strategic partnership with SAIC Motor, by ordering first set of vehicles including Roewe E50 EVs and Roewe 550 plug-in electric hybrid vehicles, reports The Wall Street Journal.
In a rapidly growing EV industry of China this alliance of eHi and SAIC is seen as a milestone, signaling the bright future.
SAIC has been focusing on R&D, manufacturing and production. It is important to create an active market demand for electric vehicles in China in addition to government support, said, Xiaoqiu Wang, vice president, SAIC, said during the signing ceremony.
SAIC is the first Chinese automaker that strategically planned the development of alternative energy vehicles. Currently, SAIC offers Roewe E50 EV, Roewe 550 PLUG-IN HYBRID, Roewe 750 FUEL-CELL, and many more.

Both parties have been working together on the rental service of EVs since 2013. SAIC offers leading technologies, product quality and post-sale services. This partnership will cover SAIC product lines from existing vehicle models to future alternative energy vehicles, mentioned, Ray Zhang, founder, CEO, eHi.
Alternatively, SAIC can leverage eHi's nationwide coverage to offer consumers with their latest products. SAIC's products can be added to the wide variety of offerings through eHi's online and offline channels, added Zhang.
eHi Car Services own direct service network covering over 90 Chinese cities and over 700 service locations, providing EV rentals with free charging service which is popular among customers.
eHi is collaborating with Roewe 550 PLUG-IN in the rental car market due to its greater fuel efficiency and comfort level, says the news report.
In March, SAIC released Roewe 550 PLUG-IN model with a driving range of more than 500 Km and reduced fuel consumption of 70 percent.
According to experts, this partnership will allow consumers to learn more about alternative energy vehicles in the growing environmental concern in China.
It also helps in the building of EV charging infrastructure and developing related technologies, added the report.
Recently, the Chinese government has released several policies such as a waiver of sales tax and free license plates to develop the electric vehicle industry in China.
editor@greentechlead.com