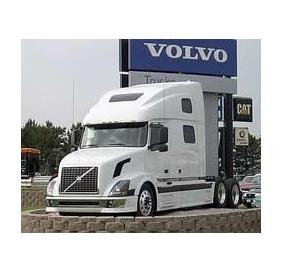 Greentech Lead Europe: Volvo Trucks have successfully
tested biofuel derived from black liquor wastes produced at a pulp mill
operated by Swedish firm Smurfit Kappa Kraftliner.

The company has tested the biofuel –bio DME (dimethyl
ether) –on ten trucks which have been specially adapted to run on this fuel.
During the filed trial one tank of fuel could run nearly 650 kilometers
as it did on any other fuel. The engine was quieter too.

The biofuel powered trucks will reduce carbon emission by 95
percent compared with diesel. Volvo Trucks plans to replace up to 50 percent of
the diesel consumed by commercial vehicles in Europe in the next 20 years.
Bio-DME is the second generation biofuel produced from biomass because is made from
by-products or waste from agricultural production.
The black liquor used in Bio-DME is used in the flow
of energy that powers the pulp mill, operated by Smurfit Kappa
Kraftliner. The gasification unit in Pitea is being run by Chemrec, which
is responsible for the biofuel production.
Chemrec processes the black liquor by gasifying it and
turns it into usable fuel. The company plans to supply the fuel at four filling
stations in different parts of Sweden during on-going field tests.
"Bio-DME is produced in three stages. After
collecting the black liquor from the pulp mill, we convert it into gas using
pure oxygen and thereby produce syngas, a gas that can be synthesised,"
said Ingvar Landalv, technical director at Chemrec.
"We wash the gas and then convert it to bio-DME. After that, the quality
is checked and the fuel is transferred to a large tank near the mill for
storage. The mill is then compensated with biomass known as forest slash, which
is branches and the tops of trees that are left over when forests are cut down
– a highly effective form of energy exchange," Landalv added.
Chemrec plans commercialize the production of biofuel along with its pulp
industry both in Sweden and abroad. Currently the project is using only 1
percent of the black liquor produced at the mill.  If the company is able
to convert all black liquor to bio-DME, it could yield fuel to power around
2500 trucks.
editor@greentechlead.com