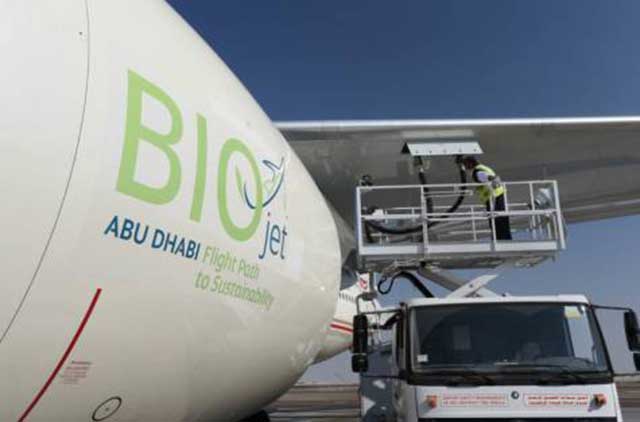 Masdar City in Abu Dhabi is set to experiment with dual purpose aquaculture that meets energy as well as food needs. It also promises to address the need for safe discharge of untreated water from fish ponds.
A two-hectare fish farm in Masdar City will be used to grow halophytes, such as Salicornia bigelovii and saltwater mangroves, too, alongside ponds for fish and shrimp. The salt-tolerant plants are proven aviation biofuel crops.
Called the Integrated Seawater Energy and Agriculture System (ISEAS), the project is among the key strategies laid out in "BIOjet" Abu Dhabi aimed at developing sustainable production of biofuels in the UAE.
Water from fish ponds are periodically discharged upon completion of each farming cycle. This water, particularly when it is untreated, has been a cause for concern owing to their ill effects on the environment.
At ISEAS, the discharge would be fed to fields with halophytes which reabsorb the nutrients contained in the water thereby sustainably recycling the waste.
Besides yielding biofuel, halophytes are useful in the production of valuable chemicals, pharmaceuticals and nutraceuticals. These features add to the commercial viability of the project, its proponents say.
The project is also being studied for its potential to attract ecotourism as mangroves provide ideal habitats for several species, particularly of birds.
In numerical terms the annual benefits per hectare of mangrove cultivated include savings of $13,353 in ecosystem protection, $8,966 in storm protection, $3,679 in erosion control and $708 in fisheries maintenance.
ISEAS can be expanded to cover 200,000 hectares if the experiment is successful, according to Dr Alejandro Rios G, Director of Sustainable Bioenergy Research Consortium (SBRC) at Masdar Institute.
In 2009 Sustainable Aviation Fuel Users Group consortium commissioned a study to understand the sustainability of a family of saltwater-based plants that may be capable of producing renewable jet fuel.
The Masdar Institute had led the study, which examined the potential for sustainable, large-scale production of biofuels from Salicornia bigelovii and saltwater mangroves.
Yale University's School of Forestry and Environmental Studies, and University of Phoenix also participated in the analysis, which included an assessment of the total carbon lifecycle of biofuels.
Ajith Kumar S