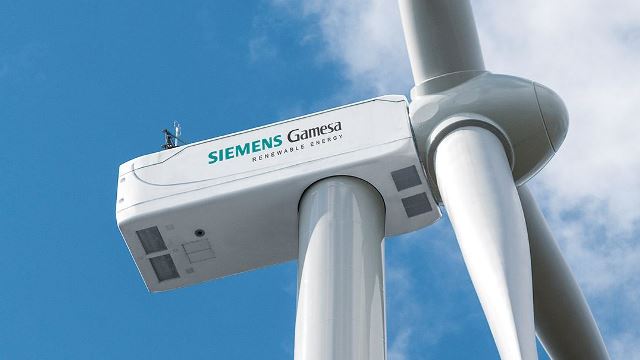 Siemens Gamesa Renewable Energy reported revenue of €2,001 (–12 percent) between October and December 2019.
Siemens Gamesa expects revenue of €10,200 million – €10,600 million during the fiscal 2020.
The wind turbine company remains focused on retaining a sound balance sheet. Siemens Gamesa had a net cash position of €175 million as of 31 December. Moreover, Siemens Gamesa has introduced sustainability criteria throughout its funding chain.
Siemens Gamesa experienced 82 percent increase in order intake, with firm orders rising to €4,628 million, raising the order book to €28,089 million, underlining solid long-term growth prospects.
The company experienced €150 million impact from costs on five onshore projects (1.1 GW) in northern Europe, mainly Norway, caused by adverse road conditions and the unusual early arrival of winter weather, which delayed project execution substantially.
Siemens Gamesa faced reduction in the delivery and installation window and postponement of some projects until the third quarter of fiscal year 2020, leading to additional costs of estimated around €150 million.
As a result, Siemens Gamesa said it adjusted its profitability target by one percentage point and expects to end the financial year with an EBIT margin of between 4.5 percent and 6 percent.
"The company's financial performance fell short of the expectations we had when we set our targets for the year. We have stepped up risk analysis to ensure project execution is on track and we will also strengthen our internal control system to avoid a recurrence," said Markus Tacke, CEO of Siemens Gamesa.
The GWEC estimates that global wind power installations will rise from 51 GW per year in 2018 to 130 GW per year in 2040. Siemens Gamesa said is solidly positioned to benefit from wind power's potential and to ensure success in the long term.
Commercial activity increased significantly in the offshore segment, with order intake in the last twelve months doubling to 3,343 MW. Of that figure, 1,279 MW were signed in the first quarter.
Siemens Gamesa said it is the leader in offshore segment, with a pipeline of projects totaling 9.6 GW .
Onshore order intake rose 8.1 percent to 2.6 GW. China (18 percent) and Canada (16 percent) were the main sources of orders in the quarter. Moreover, almost half of orders were for the new models of turbines over 4 MW.