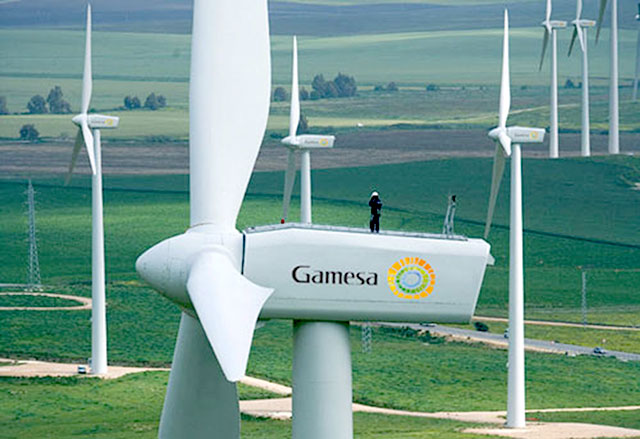 Spanish wind turbine maker Gamesa will supply turbines for six wind farms in India.
Of these the company has entered turnkey arrangements with an independent power producer (IPP) to build a 50-MW and a 108-MW project.
The wind farms located in Gujarat and Madhya Pradesh will deploy Gamesa's G97-2.0 MW Class S turbines — 25 and 54 each respectively.
The new turbine variant requires 104-metre custom-designed towers suitable for low wind speed sites typical of India.
The projects are slated for commissioning in July this year and February next.
Gamesa will handle installation, operation and maintenance of both projects under long-term service contracts.
According to a statement issued by Gamesa, the company has also secured orders to supply turbines for capacity addition of 36 megawatts at four wind farms in India.
It will be supplying another 18 of its G97-2.0 MW turbines for farms in the Madhya Pradesh, Maharashtra, Tamil Nadu and Andhra Pradesh.
The agreements, too, include medium and long-term operation and maintenance contracts.
BTM consult in a recent report covering 2014 said Gamesa ended the year as the leading original equipment manufacturer in India for the second consecutive year. It held a market share of 32 percent in 2014, compared with 21 percent in 2013.
Its closest competitors in 2014 were Suzlon and Wind World India with 21 percent and 15 per cent respectively.
Suzlon has been selling its assets to pare debt and make cash available for further investment as renewable energy markets have picked up amid growing interest against the backdrop of climate change.
Gamesa arrived in the Indian market as a technology provider and wind farm developer in 2009.
The company now has more than 1,700 MW of installed capacity and provides services for 1,450 MW under operations and maintenance agreements. Besides, Gamesa has developed wind farms for more than 1,000 megawatt capacity.
In recent years, India has emerged as one of the most promising wind power markets. Its installed capacity is expected to increase from nearly 23,000 MW at present to 40,000 MW by the end of 2019. A BTM report says the expansion will be driven by pent-up demand for electricity.
Ajith Kumar S
editor@greentechlead.com