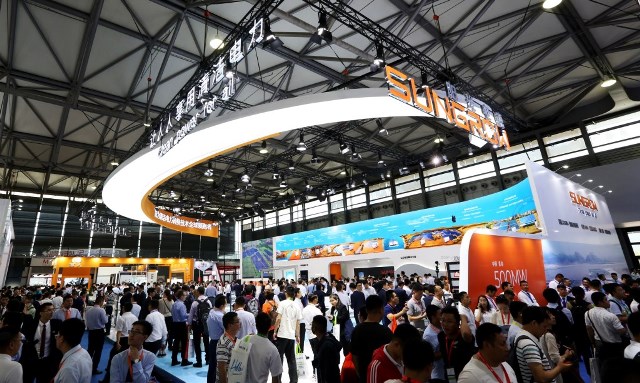 Sungrow announced it will supply 1500V SG250HX inverter solutions to the 500 MWac IBRI II project in Oman.
The delivery of inverter solutions will commence in Q2 this year. The project is expected to come online in the summer of 2021.
The IBRI II PV project is an Independent Power Project (IPP) to be developed on a BOO (build, own, operate) basis. The $400 million project was funded on a debt to equity ratio of 70:30 and a consortium consisting of ACWA Power, Gulf Investment Corporation (GIC) and the Alternative Energy Projects Company (AEPC) has achieved the financial closure of it recently.
The project will supply clean power to state-owned utility Oman Power and Water Procurement Company (OPWP) under a 15-year contract. The plant can generate roughly 1,300 GWh annually, which is enough to power an estimated 33,000 homes and offset 340,000 tonnes of carbon dioxide emissions per year.
The project is located in a desert around 300 km west of Muscat with ample sunshine and abundant flat land. The system poses strict requirements on a minimized LCOE with PV technologies and the resilience to harsh conditions like high temperature and sand corrosion.
Sungrow said its SG250HX 1500V string inverter features 12 MPPTs with efficiency of 99 percent and enables flexible block design allowing for up to 6.75 MW blocks. Compatible with bi-facial modules and tracking systems, the solution can significantly maximize ROI for a PV project.
The Power Line Communication will cut installation cost without excessive communication wiring. Equipped with 24-hour Static Var Generator (SVG) function, the solution can provide an effective response to power quality problems, enabling improved power system stability, reduced energy losses, saving approximately $1,143,000.
ACWA Power has experience in deploying PV Independent Power Plants worldwide. The Oman IBRI II Solar PV is expected to play a strategic role in building Oman's renewable production capacity, Rajit Nanda, chief investment officer from ACWA Power.
The 1500V 250 kW string inverter has been attracting around 3 GW orders since it was first rolled out in Intersolar Europe 2019, said James Wu, vice president of Sungrow.