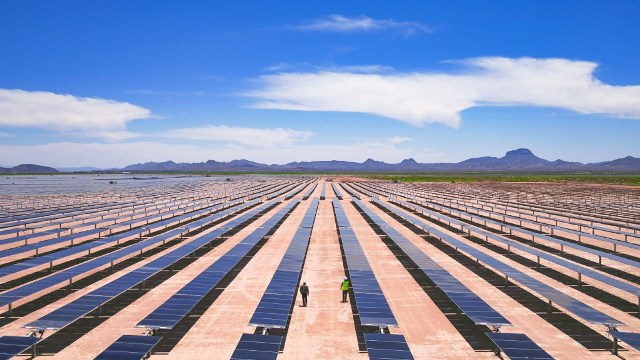 Longroad Energy announced the financial close and commencement of construction of Sun Streams 3 project.
Sun Streams 3 is a 285 MWdc PV and 215 MWac / 860 MWh storage project in Maricopa County, Arizona.
Longroad Energy said Sun Streams 3 is expected to begin commercial operations in 2024 and will be the largest solar and storage project in Longroad's operational portfolio.
Longroad Energy currently has a 4 GW operating and development portfolio in the Arizona state.
The project interconnects with the grid at the Hassayampa switchyard, a major transmission hub in the western U.S.  Sun Streams 3 will enhance electrical capacity and system reliability in Arizona; the project's total output, enough to power 90,000 homes, will be purchased by Arizona Public Service (APS) via a long-term Power Purchase Agreement.
"The energy generated by this project will assist APS as we transition to a 100 percent clean and carbon-free resource mix by 2050 and is one way we are maintaining an affordable, resilient and balanced energy supply for all our customers," said Justin Joiner, APS Vice President of Resource Management.
Longroad acquired Sun Streams 3 from First Solar in 2021 as part of a larger transaction that included multiple projects in Arizona, including the 200 MWdc Sun Streams 2 solar project which has been operational since 2021 and additional projects which are still in development.
First Solar is supplying Series 6+ solar modules for the Sun Streams 3 project.
Debt financing was led by CIBC and KeyBank, and included ANZ, Commerzbank, PNC and Silicon Valley Bank. KeyBanc Capital Markets and CIBC served as Coordinating Lead Arrangers.  U.S. Bank is the project's tax equity investor.
Sun Streams 3 is projected to employ over 300 people during construction. Longroad Energy has selected McCarthy Building Companies (McCarthy), whose Renewable Energy & Storage team is based in Phoenix, Arizona, as the EPC (engineering, procurement and construction) contractor for the project.  McCarthy also built Longroad's adjacent 200 MWdc Sun Streams 2 solar project, which recently received the 2022 Best Energy Project in the Southwest Award from Engineering News Record.
The 215 MW/ 860 MWh battery energy storage system (BESS) will be delivered by Powin, a U.S.-based energy storage platform provider with over 17 GWh of projects deployed, under construction, or in contracting.
The BESS will include SMA inverters and cells from Envision AESC, which will be integrated into Powin's modular and scalable Stack 750E energy segment. Longroad, in conjunction with Powin and NovaSource, will provide long-term operations and maintenance services.
Nextracker is supplying trackers for the project and SunGrow is supplying the solar inverters. Operations and maintenance services for the project will be provided by NovaSource and Longroad's affiliate Longroad Energy Services.
Sun Streams 3 will generate more than $65 million in revenue for Arizona schools via long-term leases with the Arizona State Land Department.