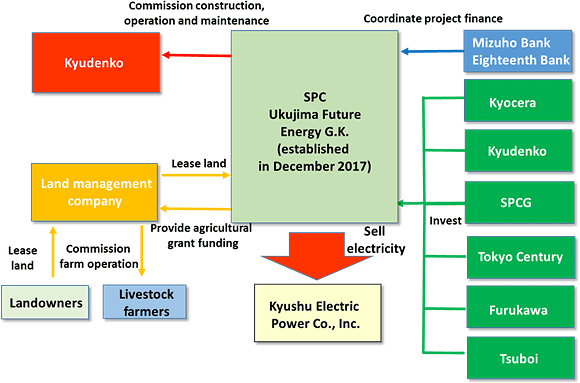 Kyocera, along with Kyudenko and Mizuho Bank, announced a major milestone for the 480MW solar power project on the island of Ukujima located in Nagasaki Pref., Japan.
The companies announced they have added five other participants: SPCG, Tokyo Century Corporation, Furukawa Electric Company, Tsuboi Corporation, and The Eighteenth Bank.
Photovolt Development Partners (PVDP) began planning the solar power project in April 2013 with the aim of helping to contribute to environmental protection and economic revitalization on the remote island.
It has been agreed that the feed-in tariff (FIT) rights would be transferred from PVDP to the newly established special purpose company named "Ukujima Future Energy Holdings G.K.," and it will restart as a new project.
Approximately 200 billion yen (approx. USD1.80 billion) in investment is planned for the project, with a goal of starting construction in FY2019.
The project plans to utilize approximately 1,650,000 Kyocera high-output multicrystalline silicon solar modules to create a 480MW system that would generate an estimated 515,000MWh per year.
By constructing a 64-kilometer undersea cable between Ukujima and the island of Kyushu, all power produced from the project will be sold to the local utility company, Kyushu Electric Power, based on the national FIT program for renewable energy.
In concurrence with the benefits of this project entering its next phase, Kyocera, Kyudenko, SPCG, Tokyo Century, Furukawa Electric, Tsuboi, Mizuho Bank and The Eighteenth Bank will continue to explore the project with the aim to achieve an environmentally friendly business model using solar power, while contributing to the development of the island's agricultural base, Kyocera said.
editor@greentechlead.com