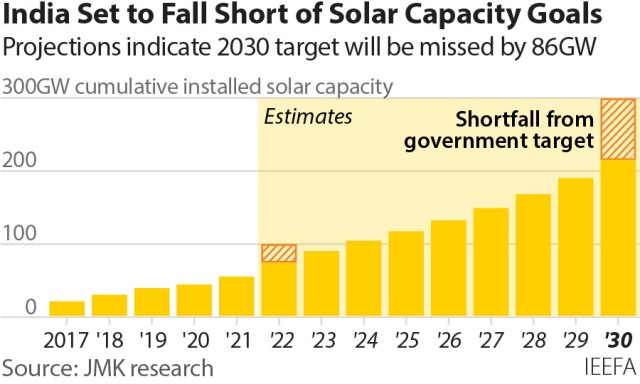 India is projected to fall well short of its target for 2022 of having 100 gigawatts (GW) of installed solar capacity, largely due to slow uptake of rooftop solar, according to a new report by JMK Research and the Institute for Energy Economics and Financial Analysis (IEEFA).
India's installed solar capacity was 55GW, with grid-connected utility-scale projects contributing 77 percent and the balance coming from grid-connected rooftop solar (20 percent) and mini or micro off-grid projects (3 percent), as of December 2021.
With eight months of 2022 remaining, only about 50 percent of the 100GW target, consisting of 60GW of utility-scale and 40GW of rooftop solar capacity, has been met.
Approximately 19GW of solar capacity is expected to be added in 2022 – 15.8GW from utility-scale and 3.5GW from rooftop solar.
"Even with this capacity addition, about 27 percent of India's 100GW solar target would be unmet," says report co-author Jyoti Gulia, Founder, JMK Research.
The report projects that by December 2022 there will be a 25GW shortfall in the 40GW rooftop solar target, compared to just 1.8GW in the utility-scale solar target.
"Utility-scale solar capacity addition is on track. India is set to achieve nearly 97 percent of its 60GW target. This makes it imperative to have a more concerted effort towards expanding rooftop solar," Jyoti Gulia said.