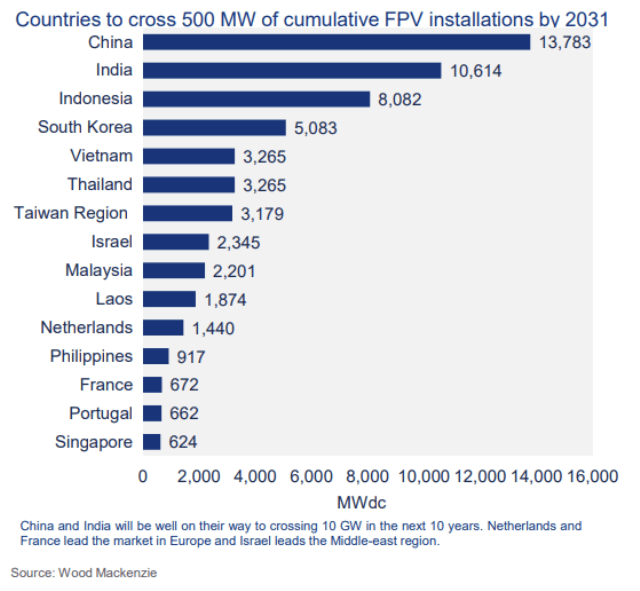 The floating solar market is projected to surpass 6 GW by 2031 as photovoltaic (PV) developers face challenges in meeting the growing demand for solar energy and explore alternative development technologies.
At the SNEC PV Power Expo in Shanghai, Ting Yu, a consultant at Wood Mackenzie, highlighted that limited land availability and increasing land costs for ground-mount solar projects are driving the demand for floating installations in the global solar industry.
Floating solar will maintain a stable market share relative to the overall global solar demand, with a CAGR of 15 percent for the next decade. It is forecasted that 15 countries will exceed 500 MW of cumulative floating solar installations by 2031, with Indonesia, India, and China accounting for nearly 70 percent of the total floating solar demand in 2022.
Despite the development costs of floating photovoltaics (FPVs) being 20-50 percent higher than comparable ground-mount projects, increased competitiveness in the developer and engineering, procurement, and construction (EPC) landscape is helping drive down costs in the sector.
In 2022, the Asia-Pacific market accounted for approximately 3 GW of floating solar projects, capturing over 90 percent of the global floating solar demand that year. China, Indonesia, India, South Korea, and Thailand are actively developing multiple floating solar projects, as analyzed by Wood Mackenzie.
China is expected to maintain its leadership in floating solar installations, leveraging decommissioned flooded coal mines for the development of floating solar projects. The cumulative capacity of floating solar in China is projected to surpass 13 GW by 2031, with a 12 percent CAGR over the next decade.
Europe is the second-largest region for floating photovoltaics demand, with nearly 150 MW of capacity. The Netherlands leads the region, followed by France. More European countries are adopting floating solar technology to maximize land use.
The Netherlands boasts the largest floating solar project outside the Asia-Pacific region, accounting for 32 percent of Europe's floating solar market in 2022, primarily supported by the Sellingen floating solar park (41.4 MW) that commenced operations in 2021.
The trend in Europe indicates the growth of larger floating PV plants in the near future. Growth is projected to slow after 2025, as most suitable locations would have already been developed. Additionally, grid constraints and higher levelized cost of energy (LCOE) for larger plants hinder the competitiveness of floating solar against rooftop PV.
In the United States, floating solar is estimated to have a CAGR of approximately 13 percent over the next ten years, with development driven in regions with high solar demand but expensive land costs, including California, Florida, and New Jersey.
The floating solar industry faced high costs across all market segments in 2022, primarily due to supply chain constraints that led to increased component costs and other soft cost escalations. For example, the price hike of High-Density Poly Ethylene caused by the pandemic significantly impacted the balance of system (BOS) costs for floating photovoltaics. However, as the supply chain expands, it is expected that the costs will decrease.