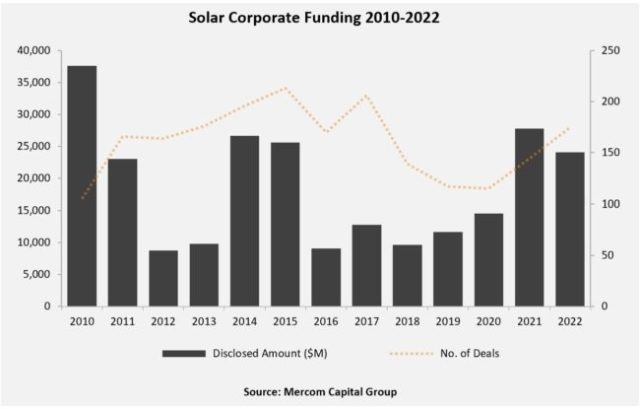 Corporate funding in the solar sector declined 13 percent to $24.1 billion in 2022 as compared to $27.8 billion in 2021. The number of funding deals in solar business rose by over 20 percent, Mercom Capital Group said in its report.
Global VC funding in the solar sector in 2022 rose 56 percent to to $7 billion compared to $4.5 billion in 2021. This is the highest amount of VC funding for solar in a single year. There were 21 VC funding deals over $100 million in the solar sector.
Of the $7 billion in VC funding in 90 deals in 2022, $5.9 billion (84 percent) went to 62 Solar Downstream companies. Solar PV companies raised $864 million; Balance of System (BOS) raised $83 million; Thin-Film technology companies raised $76 million; Service Providers raised $44 million; and Concentrated Solar Power companies raised $13 million.
The top VC-funded companies in 2022 were Intersect Power ($750 million), Longroad Energy ($500 million), Yellow Door Energy ($400 million), Palmetto ($375 million), Aspen Power Partners ($350 million), and Agilitas Energy ($350 million).
Public market financing in 2022 totaled $5.1 billion.
In 2022, announced debt financing came to $12 billion.
There was a record 128 mergers and acquisition (M&A) transactions in 2022.
There were 268 large-scale solar project acquisitions in 2022, 66 GW of solar projects changed hands, the second highest ever.
Corporate funding includes venture capital and private equity (VC), debt financing, and public market financing.