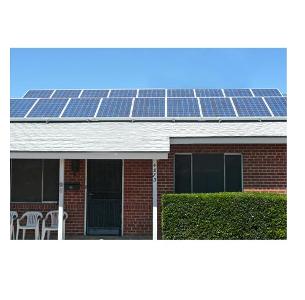 By GreenTech Lead Team: SOLON Corporation, a provider of turnkey solar power
plants in the U.S., announced it has installed a 10 kilowatt (kW) pilot project
of the SOLquick commercial rooftop solution at Biosphere 2, an ecological
research and teaching facility located north of Tucson.
The clean energy produced from SOLquick rooftop solution
is sufficient to power the facility. Together, SOLON and
the Biosphere team will develop a solar learning center based on the system,
which SOLON will continue to monitor for one year, to continue training, time
trials and research, and to ensure all design functions are met.
"SOLON is pleased to be working with the Biosphere 2,
which shares our commitment to promoting solar in the community. The
Biosphere's mission of advancing research and understanding resonates with
SOLON's heritage of innovation, and we are glad to be working with them to
advance the solar industry," said Dan
Alcombright, CEO and president of North America for SOLON.
SOLquick offers a lightweight solution (weighing less
than 2.8 pounds per square foot) for customers to incorporate solar into their
energy portfolio through their roof.
"Innovative products like SOLON's SOLquick take us
another step closer to bringing solar into homes and businesses. SOLquick's
fast installation allowed us to quickly bring solar to our facility, and we
look forward to collaborating on research that advances solar technology," said
Nathan Allen, sustainability coordinator, Biosphere 2.
SOLON recently sold a
solar power plant with a capacity of 2.72 MW in the southern Italian region of
Apulia. The buyer is a Berlin-based family office. The power plant, located in
the small town of Orta Nova, has an annual output of just under 4,000 megawatt
hours of electricity. This output is sufficient to power 1,050 homes and save
approx. 2,800 tons of CO2 emissions every year.