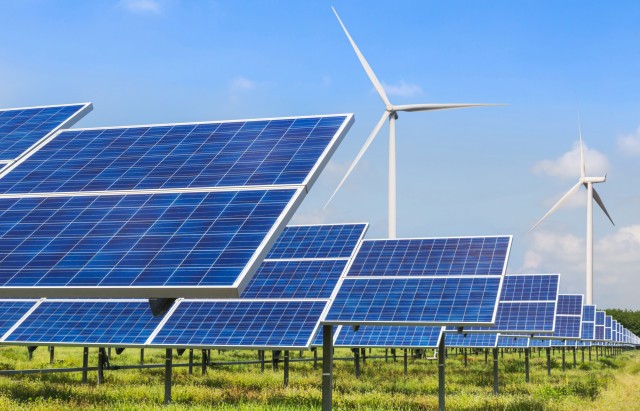 U.S. President Joe Biden's signing of the Infrastructure Reduction Act (IRA) on Aug. 16 unlocked hundreds of billions of dollars in green energy investments, Reuters news report said.
As a result, dozens of energy, automobile and clean technology companies have announced plans to move forward with new projects or accelerate the timeline on previous deals.
Here are some of examples:
EV / BATTERIES
Honda and LG Energy Solution announced their $4.4 billion investment for a new battery plant with annual production capacity of 40 GWh.
Hyundai announced that the construction of $5.54 billion EV and battery plant in Savannah, Georgia, could start this year instead of January 2023.
Panasonic announced its second new battery plant: Panasonic, an EV battery supplier to Tesla, is considering Oklahoma for its second new $4 billion battery plant. The first plant will be in Kansas.
EV giant Tesla is seeking approval in Texas to set up a lithium refinery. Construction could begin in the fourth quarter of 2022 and would reach commercial production by the end of 2024.
Automobile major Volkswagen signed an agreement with Canada to advance a sustainable battery supply chain and supply lithium, nickel and cobalt.
Sparkz, the battery startup, in late August announced Taylor County, West Virginia, as the site of a future plant that will commercialize a zero-cobalt battery.
Piedmont Lithium said on Sept. 1 it will build a $600 million lithium processing plant in Etowah, Tennessee, that will begin production in 2025 with a target of 30,000 metric ton per year.
RENEWABLES
Solar Energy Industries Association and Wood Mackenzie project the U.S. solar market growing 40 percent more than prior forecasts through 2027 on the heels of the legislation.
First Solar, the top U.S. solar panel maker, said on Aug. 30 it spend $1 billion to build a new facility in the Southeast and invest $185 million in its existing Ohio factories.
SPI Energy announced on Aug. 23 that it signed a letter of intent to secure 1.5 GW of solar wafer manufacturing equipment, as part of plans for 3 GW of U.S. manufacturing capacity by 2024.
REC Silicon and Mississippi Silicon, which produce raw materials used in solar panels, announced on Aug. 22 they will expand their relationship to support development of an end-to-end U.S. solar supply chain.
BATTERY STORAGE
Virginia-based energy storage company Kontrolmatik announced on Aug. 16 that its first U.S.-based lithium-ion battery factory, previously expected to have a 2 GWh capacity, will now have a 3 GWh capacity.
Zinc8 announced Aug. 12 it signed a letter of intent to make Ulster County, New York, the home of its first major manufacturing hub, citing incentives included in the IRA.
HEAT PUMPS
On Aug. 24, air conditioning company Carrier designated a facility in Tennessee as site for high-efficiency heat pump production.
DIRECT AIR CAPTURE
Los Angeles-based CarbonCapture announced on Sept. 8 it is speeding up its plans to build a 5 million ton-per-year direct air capture project in Wyoming by several months thanks to the IRA.