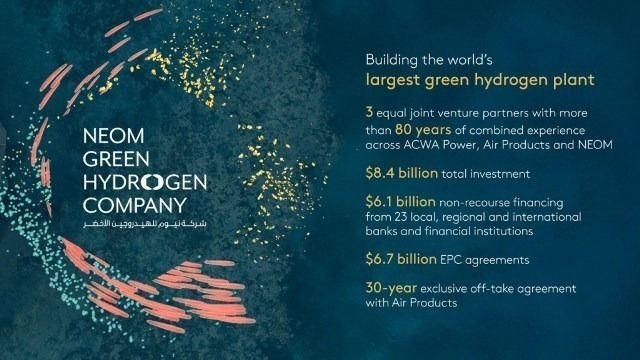 NEOM Green Hydrogen Company (NGHC) has achieved financial close for its green hydrogen production facility at an investment of $8.4 billion.
The plant is being built at Oxagon, in Saudi Arabia's region of NEOM. NGHC has also concluded the engineering, procurement, and construction (EPC) agreement with Air Products as the nominated contractor and system integrator for the facility.
NEOM Green Hydrogen Company is an equal joint venture by ACWA Power, Air Products and NEOM. It aims to build the world's largest green hydrogen plant to produce green ammonia at scale in 2026.
The $8.4 billion project is being financed with $6.1 billion non-recourse financing from 23 local, regional and international banks and financial institutions.
NEOM Green Hydrogen Company has secured an exclusive 30-year off-take agreement for the produced green ammonia.
NGHC have concluded Engineering, Procurement and Construction (EPC) agreements with Air Products for $6.7 billion. Air Products has awarded major contracts to various technology and construction partners.
NGHC's plant will integrate up to 4GW of solar and wind energy to produce up to 600 tons per day of carbon-free hydrogen by the end of 2026, in the form of green-ammonia as a cost-effective solution for the transportation and industrial sectors globally.