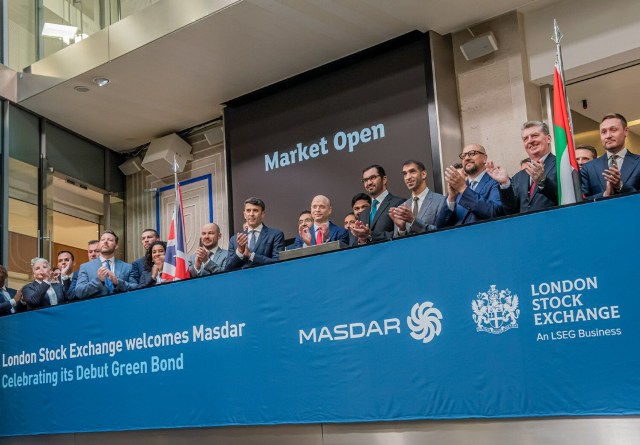 Abu Dhabi Future Energy Company, commonly known as Masdar, has achieved a significant milestone with the successful completion of its first green bond issuance for $750 million 10-year senior unsecured Notes at the London Stock Exchange (LSE). The momentous occasion was marked by a notable gathering of dignitaries and industry leaders.
The market opening ceremony, held at the LSE, was graced by the presence of distinguished guests, including Sultan Al Jaber, UAE Minister of Industry and Advanced Technology, COP28 President-Designate, and Chairman of Masdar; Thani bin Ahmed Al Zeyoudi, Minister of State for Foreign Trade; Ambassador Mansoor Abulhoul, UAE Ambassador to the UK, and Masdar's Chief Executive Officer, Mohamed Jameel Al Ramahi.
The green bond offering, which took place on July 19, 2023, garnered overwhelming interest from both regional and international investors. With more than five times oversubscription, it reflects the growing appetite for sustainable investments in the renewable energy sector.
Masdar, a global leader in clean energy, has a strong track record, having developed over 20GW of renewables capacity in more than 40 countries. Having invested more than $30 billion to date, Masdar sets its sights on a commendable goal of reaching a 100GW portfolio by 2030.
The $750 million green bond issuance is just the beginning of a comprehensive program designed to raise up to $3 billion. The funds will be utilized to fulfill Masdar's equity funding commitments for new renewable energy projects both at home and overseas. The company's ambitious target is to achieve a 100GW global portfolio of renewable energy capacity by the end of this decade.
Masdar is committed to directing the proceeds from the green bond offerings toward the most environmentally sustainable projects within the renewables sector. Specifically, the funds will support initiatives related to solar, wind, renewable power transmission and distribution infrastructure, and battery storage assets. Furthermore, strict Environmental, Social, and Governance (ESG) criteria will be applied to ensure that only projects meeting the highest sustainability standards are eligible for funding.
In a further move to expand its presence in the financial markets and promote sustainable investments, Masdar plans to have a secondary listing of its green bond offering on the Abu Dhabi Securities Exchange (ADX) later this year. The ADX is the second-largest market in the Gulf region, and this move is expected to attract more investors and bolster the green finance ecosystem.
Established in 2006, Masdar has emerged as a powerhouse in the UAE's clean energy sector. With its involvement in over 40 countries, the company boasts a diverse portfolio of renewable energy projects with a combined capacity of approximately 20 gigawatts (GW). Masdar aims to take this capacity to at least 100 GW by 2030, aligning its vision with the global sustainability agenda.
Looking ahead, Masdar is not only focused on renewable energy but also on the emerging sector of green hydrogen production. The company has set an ambitious target of reaching 1 million tonnes per annum of green hydrogen production by 2030, further solidifying its position as a key player in the transition to a more sustainable and low-carbon future.