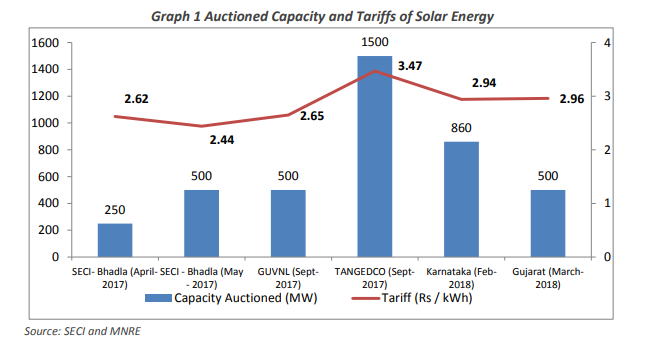 CARE Ratings' latest update on the renewable power industry in India has revealed the following:
The latest tariffs from the auctions indicate a recovery after hitting historic lows in the previous auctions during 2017-18.
The March 2018 auctions for wind energy witnessed bids of Rs. 2.85 per unit for 500MW capacity in Maharashtra.
Solar energy capacity was bid at Rs. 2.96 per unit for 500MW capacity in Gujarat during the same month.
Renewable power developers will continue to bid competitively for projects in states with better performing discoms namely Maharashtra, Gujarat and Karnataka.
With better order visibility for wind energy (10GW each for 2019 & 2020), their tariffs may witness gradual normalization in line with tariff of solar and thermal power.
Discoms fixing upper ceiling of tariffs has led to limited participation which in turn may slow down rate of new capacity addition especially for solar power.
Increase in wind/solar tariffs for few projects can also be attributed to geographical factors like wind speed, duration and intensity of solar radiation etc.
The fall in solar power tariffs during the previous year was in line with the fall in prices of solar power components by almost 80 percent, most of which is imported from China. Domestic manufacturers of solar equipment and modules have been demanding duties to safeguard their interests, which in turn is slowing the pace of new capacity development especially in the solar power segment, the report said.
Thermal and renewable power tariffs are at par, as per the recent renewable tariffs under various auctions and the prices of thermal power data from CEA.
The new guidelines under the National Solar Mission which aimed at bringing transparency in procurement of solar power and at the same time penalising developers or discoms in case of unilateral termination or amendment in PPAs has come as a relief for the industry at a time when low tariffs led to many state discoms pushing for renegotiation of existing PPAs with developers.
Wind energy tariffs dropped from a high of Rs. 3.46 per unit in Feb-2017 which was the first auction under reverse auction mechanism post transition from Feed-in-Tariff regime (FiT) for wind energy projects. The tariffs touched a low of Rs. 2.44 per unit during the SECI auction conducted in Feb-2018.
Tariffs inched upwards to Rs. 2.85 per unit during the latest auctions, a 16 percent increase in tariff levels from the previous auction. The rise in tariffs of wind energy can be attributed to better order visibility of 10GW each for the year 2019 and 2020 as set by the Ministry. The targeted installed capacity for wind energy by 2022 is 60GW out of which 33 GW is already in place.
editor@greentechlead.com