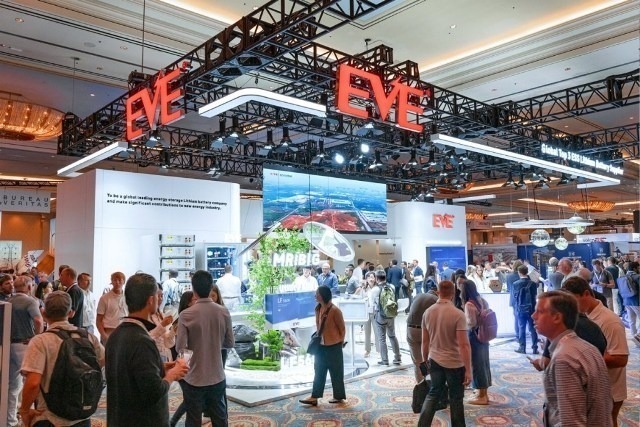 EVE, a global leader in energy storage battery solutions, exhibited its cutting-edge technological achievements at the RE+2023 event by introducing the revolutionary "Mr. Giant" 5MWh standard energy storage system powered by the formidable "Mr. Big" LF560K cells, reaffirming its prowess in the energy storage sector.
Earlier at Intersolar Europe in June in Germany, EVE had unveiled the LF560K energy storage cell, boasting the largest capacity in the industry. Building on this groundbreaking innovation, EVE has now presented "Mr. Giant," a 5MWh standard energy storage system featuring the next-generation "Mr. Big" LF560K cells. The "Mr. Giant" system leverages the Mr. Big super-sized cell stacking solution, effectively balancing safety and cost-effectiveness, thereby revolutionizing the concept of energy storage systems (ESS) to be more convenient, safer, and economically efficient.
Steven Chen, CEO of EVE Energy Storage, remarked, "We have upgraded 'Mr. Big' – LF560K, bringing a larger capacity and higher-energy energy storage cell to the industry. Simultaneously, we have developed the 'Mr. Giant' 5MWh standard energy storage system, which is more convenient, safer, and more economical. Our aim is to explore an intelligent energy storage integrated system that combines safety and cost-effectiveness effectively, addressing the trends of the terawatt-hour (TWh) era and resolving complexities in managing large-scale power plants, thermal control issues, and economic concerns."
The "Mr. Giant" 5MWh standard energy storage system incorporates a super-sized stacked intelligent cell, "Mr. Big," ensuring high performance, system reliability, and safety. It simplifies operation and maintenance, enhancing user convenience. The system utilizes Non-Thermal Propagation (NTP) technology from the automotive industry, effectively isolating heat diffusion inside and outside the battery pack, thus boosting system stability and safety.
Moreover, advanced manufacturing techniques, an efficient design, and optimized cluster-level dimensions result in a remarkable 45.6 percent increase in single-box energy and a 12.1 percent rise in single-cell volume energy, leading to a double-digit reduction in both cell and system costs, meeting the high economic demands of the energy storage market.
EVE has also forged strategic agreements with Wärtsilä and TAE, aiming to drive global energy market decarbonization. The collaboration underscores EVE's international partnerships with esteemed clients such as Powin, ABS, and GOODWE in the global energy storage market, demonstrating robust global support for EVE's energy storage battery products, positioning them within sturdy global supply chains. EVE's influence in the energy storage battery products sector is set to grow, making significant contributions to the global "zero-carbon action."
In the thriving global energy storage industry, EVE Lithium Energy secured the third position in energy storage cell shipments worldwide during the first half of 2023 according to publicly available data from InfoLink. With 13 production bases, 7 sales companies, and offices globally, EVE is well-positioned to meet international demands, and its recent establishment of manufacturing facilities in Malaysia and Hungary marks a significant step in its globalization efforts, further solidifying its global leadership in the energy storage domain.