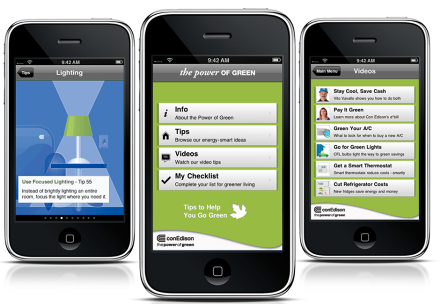 A new report, "Energy Apps for Residential Customers," from Navigant Research says active users of utilities' energy apps have experienced average savings of six percent to eight percent.
Residential customers are beginning to turn to energy-focused apps offered by utilities and vendors of energy-related hardware and services to increase energy efficiency in their homes and to save money.
Through new tools, and with data available at their fingertips, customers can monitor their energy use to reduce consumption, while utilities benefit from more efficient grid operations.
"Customers are using apps via mobile devices like smartphones and tablets, as well as PCs, for more and more of their daily needs," says Neil Strother, principal research analyst with Navigant Research.
"Energy services companies in the 21st century need to stay in tune with them by providing appropriate apps and developing an adaptable and long-term strategy, helping customers to more efficiently monitor and manage their energy consumption," Strother added.
Currently, several utilities offer energy apps for customers, including DTE Energy, Direct Energy, and Infinite Energy, and point to generally positive customer experiences and possible energy savings of approximately eight percent.
The market for energy apps is still in its early stage, but is expected to grow as more utilities and energy service companies become more technologically savvy, the report said.
Rajani Baburajan
editor@greentechlead.com