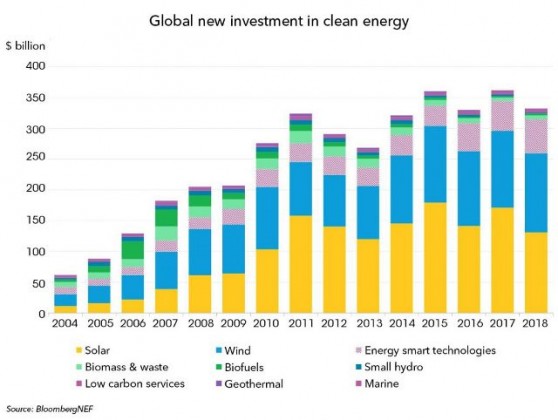 Global clean energy investment dropped 8 percent to $332 billion in 2018, according to the latest research report from BloombergNEF.
Wind investment grew 3 percent to $128.6 billion, with offshore wind having its second-highest year.
Spending on smart meter rollouts and electric vehicle company financing also increased. Solar investment dropped 24 percent to $130.8 billion – mainly due to sharp drop in capital costs.
Chinese solar investment fell 53 percent to $40.4 billion in 2018.
BNEF's global benchmark for the cost of installing a megawatt of photovoltaic capacity fell 12 percent in 2018 as manufacturers slashed selling prices in the face of a glut of PV modules on the world market.
Global PV installations increased from 99GW in 2017 to approximately 109GW in 2018.
Jenny Chase, head of solar analysis at BNEF, said: "2018 was a difficult year for many solar manufacturers, and for developers in China."
Clean energy investment in main countries
China $100.1 billion –32 percent
US $64.2 billion +12 percent
Europe $74.5 billion +27 percent
Japan $27.2 billion –16 percent
India $11.1 billion –21 percent
Germany $10.5 billion –32 percent
UK $10.4 billion +1 percent
Australia $9.5 billion +6 percent
Spain $7.8 billion +7-fold
Netherlands $5.6 billion +60 percent
Sweden $5.5 billion +37 percent
France $5.3 billion +7 percent
South Korea $5 billion +74 percent
South Africa $4.2 billion +40-fold
Mexico $3.8 billion –38 percent
Vietnam $3.3 billion +18-fold
Denmark $3.2 billion +5-fold
Belgium $2.9 billion +4-fold
Italy $2.8 billion +11 percent
Morocco $2.8 billion +13-fold
Taiwan $2.4 billion +134 percent
Ukraine $2.4 billion +15-fold
Canada $2.2 billion –34 percent
Turkey $2.2 billion –5 percent
Norway $2 billion no change
The biggest solar projects financed included 800MW NOORm Midelt PV and solar thermal portfolio in Morocco, at an estimated $2.4 billion, and the 709MW NLC Tangedco PV plant in India, at a cost of about $500 million. India is one of the countries with the lowest capital costs per megawatt for photovoltaic plants.
Offshore wind attracted $25.7 billion (+14 percent) clean energy investment last year. Some of the projects financed were in Europe, led by the 950MW Moray Firth East array in the North Sea, at an estimated $3.3 billion, but there were also 13 Chinese offshore wind farms starting construction, for a total of some $11.4 billion.
David Hostert, head of wind analysis at BNEF, said: "China is taking over as the biggest market and new locations such as Taiwan and the U.S. East Coast are seeing strong interest from developers."
Onshore wind saw $100.8 billion of new asset finance globally last year, up 2 percent, with the biggest projects reaching go-ahead including the 706MW Enel Green Power South Africa portfolio, at an estimated $1.4 billion, and the Xcel Rush Creek installation in the U.S., at $1 billion for 600MW.
Other renewable energy sectors
Investment in biomass and waste-to-energy rose 18 percent to $6.3 billion. Investment in biofuels grew 47 percent to $3 billion. Investment in Geothermal rose 10 percent to $1.8 billion.
Investment in small hydro fell 50 percent to $1.7 billion. Investment in marine rose 16 percent to $180 million.
Investment in utility-scale renewable energy projects and small-scale solar systems worldwide fell 13 percent to $256.5 billion, though the gigawatt capacity added increased.
Corporate research and development spending for renewable energy projects slipped 6 percent to $20.9 billion.
Government R&D for renewable energy projects rose 4 percent to $15 billion.
Public markets investment in specialist clean energy companies rose 20 percent to $10.5 billion, with the biggest initial public offerings including $1.2 billion for Chinese electric vehicle company NIO, $852 million for Chinese electric car battery maker Contemporary Amperex Technology, and $808 million for French solar developer Neoen.
Global venture capital and private equity investment jumped 127 percent to $9.2 billion, the highest since 2010. The biggest deals were $1.1 billion of expansion capital for U.S. smart window maker View, and $795 million for Chinese electric vehicle firm Youxia Motors. In fact, there were no fewer than eight VC/PE financings of Chinese EV specialist companies in 2018, totaling some $3.3 billion.