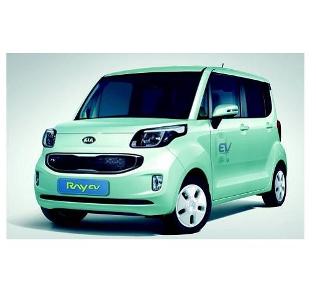 By GreenTech Lead Team: Kia Motors displayed its Ray Electric Vehicle (EV) and
Naimo EV concept car at 2012 Consumer Electronics Show (CES) for the first time
in North America. Both vehicles feature advanced lithium polymer battery
packs, and the Naimo introduces an all-new User Centered Driving (UCD)
telematics concept.
"With the Kia Ray, which is Korea's first production
electric vehicle, and the Naimo concept's forward-thinking UCD telematics, Kia
is demonstrating leadership in the area of advanced technology development as
our global R&D team pursues the goal of taking the vehicle-driver
relationship to new levels with facial recognition technology and a number of
interactive features," said Michael
Sprague, vice president, marketing & communications, KMA.
The UCD Concept represents the future of vehicle/occupant
relationships. Featuring a "glass cockpit" style interface, UCD
employs a digital "heads-up" display speed, distance and battery life.
The display also incorporates navigation directions or downloadable
applications for parking.
The UCD concept also integrated driver-status monitor and
Color Night Vision (CNV), utilizing an infra-red LED and camera to monitor
the driver's face, the system detects changes in eye movement and also
recognizes whether the driver's eyes are opened or closed, examining alertness
and safeguarding against an accident caused by the driver falling asleep at the
wheel.
Naimo features a twin-pack 27 kWh battery that uses
innovative LiPoly (Lithium Ion Polymer) technology. Equipped with this battery,
Naimo provides a driving range of 124 miles on a single charge and the battery
can be recharged to 80 percent of its capacity within 25 minutes.
Kia Motors installed
a 16.4 kWh lithium ion polymer battery pack with a 10-year lifespan in Ray EV.
Ray EV offers a range up to 86 miles on a single charge. Ray EV is powered by a
50kW electric motor with the battery only needing six hours to be fully charged
using a 220V outlet and just 25 minutes while in "fast charge"
mode.
The automatic transmission offers drivers the choice of
two modes, "E," (eco), which optimizes the delivery of torque to
achieve minimum battery consumption and maximum driving rage, or "B"
(brake), which can be selected when driving downhill, on highways or on
mountain roads to maximize braking power.