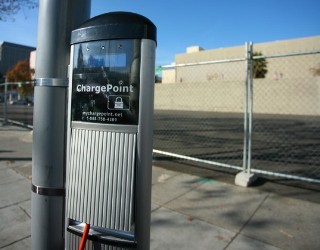 Greentech Lead America: Car Charging Group, a provider of
convenient electric vehicle (EV) charging services, announced it is offering EV
charging services at Microtel Inn and Suites by Wyndham in Harrisonburg,
Virginia.
The Microtel chain provides quality, accessible
accommodations to guests. EV charging services are now available at the 85 Pleasant
Valley Road, Harrisonburg, VA location. The area provides various
attractions including a variety of natural caverns, such as Luray Caverns and
Grand Caverns, the breathtaking sights of Shenandoah National Park, and events
at James Madison University.
CarCharging's services utilize EV charging stations
manufactured by ChargePoint, known as Level II, which provide 240 volts with 32
amps of power to quickly refuel an electric vehicle's battery. EV drivers can
easily register and create a CarCharging account online, and attach a small
card to their keychain to initiate use and payment at any intelligent
CarCharging station.
Users can also use the CarCharging RFID card that allows
drivers to use charging locations on the ChargePoint Network, the largest national
online network connecting EV drivers to EV charging stations. They can locate
EV charging stations using the CarCharging map.
The ChargePoint mobile application for the iPhone,
Android, and BlackBerry phones also provides real-time charging station
location information with turn-by-turn directions.
CarCharging has adopted a business model designed to
accelerate the adoption of public EV charging services. CarCharging pays for
all installation, maintenance and related services; therefore, eliminating
capital costs for property owners.
CarCharging recently announced it is acquiring 350Green,
an owner and operator of EV charging stations throughout the United States.
The acquisition of 350Green would position CarCharging as the largest
public EV service provider in the United States with more than 1,000 EV
charging service locations installed to date, according to a statement from the
company.
Further, the acquisition would expand CarCharging's
partnership with major municipalities, including the City of Chicago, and
further extend the company's penetration into the West Coast market where EV
adoption is expanding quickly. If the acquisition of 350Green is completed,
CarCharging will have EV service contracts with nearly every major mall
operator in the country.