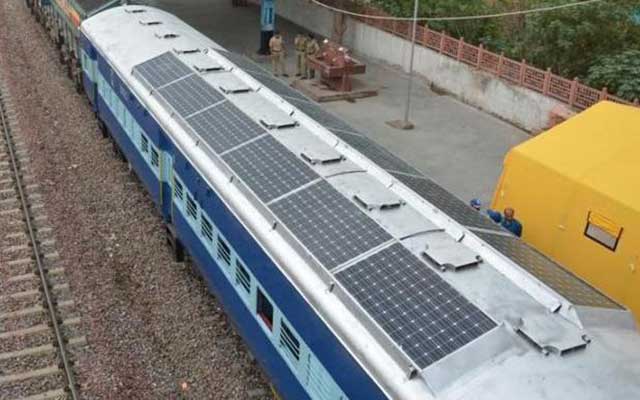 Results of the pilot field research on solar panel fitted railway coaches is out. The research team comprising scientists from Indian Institute of Science Bangalore has stated that each such coach can yield electricity savings of 7,200 units annually.
If solar panels are fixed on the 63,511 coaches which the railway currently operates, it would yield 450 million units of electricity. In turn, it would save 10.8 crore (108 millon) litres of diesel currently used for lighting in coaches and reduce carbon dioxide emission by close to 3 lakh (0.3 million) tonnes.
The team studied the benefits of the scheme by travelling in a German-built Linke Hoffman Busch(LHB) coach attached to the Chennai-Coimbatore, Chennai-Mysore Shatabdi and Chennai-Bangalore Double Decker Express trains between June 24 and July 2.
The researches assessed the feasibility and viability of generating electricity on a moving train from solar panels fitted atop trains and the impact of factors such as sunshine, train speed, number of halts, track curves.
The researchers chose days with poor sunshine to conduct the studies to understand performance in the worst-case scenario.
Findings from the study could be used to manufacture and design solar panel fitted coaches on large scale.
Railway officials noted that implementation of the project on a wider scale could provide a fillip to the domestic solar panel manufacturing industry in line with the 'Make in India' initiative.
Ajith Kumar S