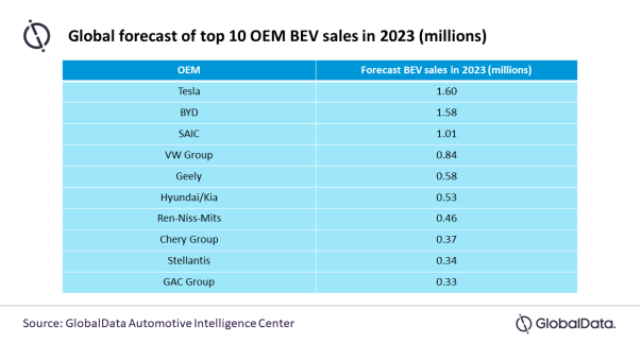 Global battery electric vehicle demand is set to increase 41 percent to 11 million units in 2023, according to GlobalData.
China will continue to dominate global battery electric vehicle (BEV) sales in 2023, despite an increase across all major markets, says GlobalData.
"China's BEV growth will moderate in 2023, after a meteoric rise in 2022 of more than 100 percent. The country's slowing economy and unavoidable retail price increases will dampen Chinese BEV and plug-in hybrid (PHEV) demand, though much volume will still be added," Al Bedwell, Director, Global Powertrain at LMC, a GlobalData company, said.
Europe BEV sales should pick up speed this year, after a supply-constrained 2022 when the market expanded by just 21 percent.
Europe's BEV growth will accelerate to 50 percent in 2023 as the chip crisis eases. The uptick in Europe will far outstrip the rate of growth in all light vehicles (LVs), meaning that the world BEV share will rise to 12.5 percent—one in eight LVs sold will be a full battery vehicle.
GlobalData research also reveals that North American BEV sales will break 1 million units in 2023, with 1.3 million EVs delivered.
BEVs will exceed 7 percent of the North American LV market in 2023. Tesla is expected to retain top spot globally in terms of BEV sales, but Chinese original equipment manufacturers (OEMs) are closing in.