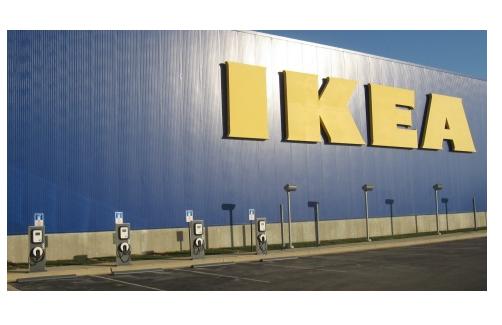 IKEA, a leading home furnishing retailer, has plugged-in four Blink electric vehicle charging stations at one of its Chicago-area stores in partnership with Car Charging Group.
Car Charging Group provides EV charging services with more than 13,750 charging points in 35 states and three countries.
To charge an EV at IKEA Bolingbrook, drivers pull into a designated parking spot, tap their Blink InCard (RFID card) to the reader below the screen, plug the charger into the EV, and then shop and eat at their leisure in the IKEA store while the vehicle is charging.
This initiative represents the 13th such U.S. project for IKEA, with installation underway at other locations. In all, installation of units currently planned will bring the number of Blink charging stations available at IKEA locations to 54.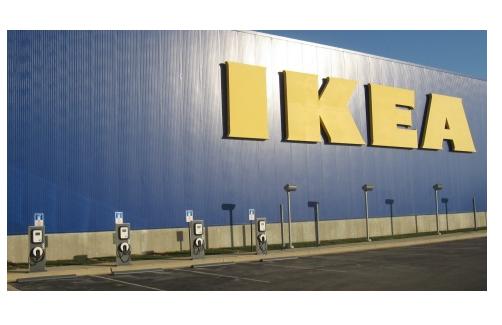 These installations further support IKEA's sustainability initiatives, IKEA said. The company is also active in sustainable activities like recycling waste material, incorporating energy-efficient HVAC and lighting systems, recycled construction materials, skylights in warehouse areas, and water-conserving restrooms.
Operationally, IKEA eliminated plastic bags from the check-out process, phased-out the sale of incandescent bulbs, and by 2016 will sell only L.E.D. IKEA also is installing electric vehicle charging stations at 17 locations in the U.S.
In a recent development, IKEA installed an expanded solar energy system atop its Denver-area store that opened more than two years ago in Centennial, CO. The 83,700-square-foot solar  addition consists of a 623-kW system, built with 2,492 panels, and is capable of producing 961,000 kWh of electricity annually for the store.
"Being a sustainable retailer includes a focus on the sustainable transport of people. So, accommodating the needs of EV drivers – with support from CarCharging and ComEd – meets both goals."