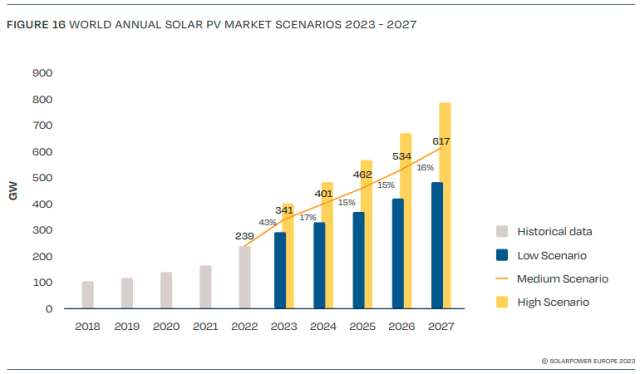 Newly installed solar capacity is projected to reach 341 GW in 2023, reflecting a growth rate of 43 percent compared to the 239 GW installed in 2022, according to a report from Solar Power Europe.
End of March, S&P Global (formerly IHS Markit) revised upwards its 2023 forecast by 30 GW to 360 GW, while PV Infolink's market update, also released in March, expects 351 GW of installed capacity in its most probably scenario.
In its latest solar market forecast, BloombergNEF became also more ambitious, estimating installations to range between 233 and 380 GW with a mid-point of 344 GW, up from 316 GW assumed in January 2023.
There are industry experts who believe the market will absorb as much as 400 GW, while the IEA, which just published its Renewables 2023 report, is standing out on the other side.
The IEA also hails solar as the leading force in renewable deployment, but it expects only 286 GW of solar additions in 2023 in its Main case, and slightly above 300 GW in its Accelerated case. However, this is also strongly up from its 2022 installation number of 220 GW, which is also much lower than the estimate of anyone else.
The market in Asia-Pacific will continue to be dominated by the two largest countries, China and India, representing a combined 79 percent of the region's 2023 installations.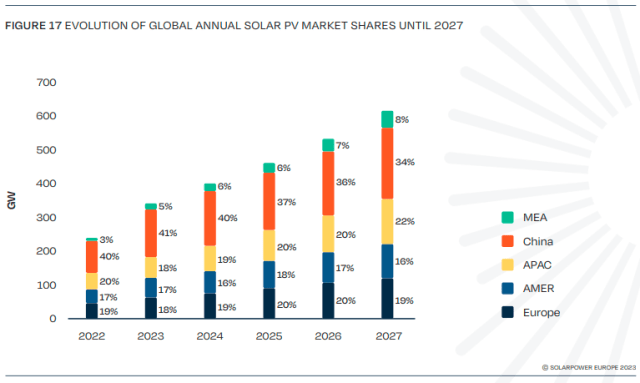 CHINA
The market in China has now finalised its transitional phase from feed-in tariffs to auctions and non-subsidised systems. It showed resilience throughout the pandemic and reached 48 GW in 2020, then 54.9 GW in 2021, and 2022 marked again a record year of 94.7 GW, a 72 percent year-on-year growth rate. This was significantly higher than the global solar PV market expansion rate, which stood at 45 percent in 2022.
In our previous assessment, we had estimated the Chinese solar market to grow by 59 percent in 2022 to reach 87.2 GW. Industry analysts agree that 2023 will witness a new level of solar demand in China, being pushed upward by growing electricity needs, lower PV product prices, and political targets for renewable development.
Our Medium Scenario for China leans more towards the optimistic side, anticipating 141 GW, a 49 percent YoY growth rate. Our upbeat expectations stem from the fact that in the first quarter of 2023 China connected a record-breaking 33.6 GWAC (38.7 GWDC) of PV capacity to the grid, a 155 percent growth from the same period in 2022.
By the end of April 2023, it installed 48.3 GWAC (55.5 GWDC), according to China's National Energy Administration.
Projections from various analysts show a wide range, but are all north of 100 GW.
While the China Photovoltaic Industry Association (CPIA) expects the market to be somewhere between 95 GW and 120 GW, TrendForce forecasts 148 GW. The booming solar rooftop sector, which was even bigger than the ground-mounted systems segment in the last two years, has become a major driver of growth in China's solar market, extending beyond residential areas and making its mark in the commercial and industrial segment, where rising power prices have been posing a strong incentive for solar investments.
China has a history of surpassing its renewable targets. The solar sector outperformed the development goals set in the three previous national Five-Year Plans (FYPs). The current 14th FYP published in July 2022 has set an increase in the renewable share in the electricity mix from 28.8 percent by the end of 2020 to 33 percent by 2025.
The Nationally Determined Contribution (NDC) is also very likely to be reached 5 years earlier. The NDC is targeting 1,200 GW of wind and solar capacity by 2030, but the country currently has already around 810 GW installed (380 GW of wind and 430 GW of solar). The country also has programmes for developing wind and solar in desert regions, with a target of installing 450 GW of wind and solar.
If China's solar market achieves the projected 49 percent annual growth in 2023, as outlined in our Medium Scenario, its global market share will rise to 41 percent. Under our High Scenario, the market could grow up to 158 GW.
INDIA
Following the rebound experienced in 2021 with installations of 14.2 GW and a 265 percent growth rate, India's progression continued but slowed down, reaching 17.4 GW in 2022. We anticipate a relatively slower growth year in 2023, with approximately 20 GW of newly installed capacity, representing a 15 percent growth compared to the previous year.
The market keeps expanding, but it is important to consider India's historical sensitivity to PV product prices. The implementation of a basic customs duty of 25 percent on solar cells and 40 percent on modules from April 1st 2022 may result in project delays.
There were also little module imports from China in the first months of the year. As a result, our Low Scenario assumes no growth in annual installations. On the other hand, after India failed to meet its 100 GW target by the end of 2022, the government is implementing various measures to reach its ambitious goal of 280 GW of solar PV by 2030.
Accomplishing this target would require the annual market to experience rapid growth, averaging 25 GW per year between 2023 and 2030. Considering India's gigantic solar potential and the government easing its protective measures for the moment to bridge the gap until large volumes of home-made products will be available, our High Scenario projects an increase to 27 GW installed in 2023.
The APAC region will dominate global demand, accounting for 60 percent of total installations in 2023. However, when considering only the installations in countries other than China, the region's share is projected to decline by 2 percentage points.
Europe's market is projected to experience substantial growth in 2023. It added 46.1 GW in 2022, a plus of 14.1 GW from 2021, and is assumed to add 62.4 GW in 2023, a 35 percent annual increase. However, due to China's dominance, the continent's market share will likely shrink a little by 1 percentage point to 18 percent.
The European Union (EU) is driving solar growth through its Green Deal and REPowerEU initiatives and the aim for carbon neutrality by 2050. The invasion of Ukraine by Russia has motivated several European countries to prioritise low-cost and versatile solar power as an important means to reduce dependence on Russian gas and improve energy security.
The Americas' market share will remain stable at 17 percent in 2023, allowing the continent to keep its position as the third largest region for solar installations, at 58.5 GW. The main driving force behind solar adoption in the Americas is the United States, which is expected to hold a 60 percent share in 2023, up from 53 percent in 2022.
The passing of the Inflation Reduction Act (IRA) in August 2022 manifests the Biden Administration's strategy to turn the US into a global clean energy power house. The recent legislation raised the investment tax credit (ITC), which serves as the primary investment mechanism for solar projects in the country, from 26 percent to 30 percent for both commercial and residential initiatives and will remain in effect until the end of 2032.