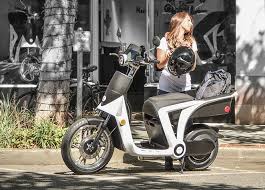 Indian auto major Mahindra & Mahindra is planning to showcase their latest electric transportation technologies during the inaugural Formula E electric car racing championship at Miami.
Mahindra Racing will be represented by Karun Chandhok and Brazilian Bruno Senna.
Karun Chandhok is an Indian racing driver, who competes in Formula E for Mahindra Racing and he will drive through the city's streets in new electric racers.
Among the advanced electric technologies, which will be showcased during the event will be Mahindra's two-wheeler 'GenZe 2.0'.
The GenZe is an all-electric two-wheel transportation alternative designed to make travelling in American cities and campuses faster and environment friendly.
Equipped with a Cruise-Connect System, this is industry's first cloud-based connected scooter, allowing riders to manage settings from an app on their phone and charge their mobile devices while on the move.
In addition, it has a removable lithium-ion battery that can be recharged at any standard electrical outlet.
The vehicle is designed to help overcome the challenges associated with pollution, traffic congestion, parking hassles, and the limitations of public transportation for a commuter.
The two-wheeler is slated for a California debut in a few months.
For Mahindra, Formula E event is an opportunity to exhibit the future of sustainable transportation.
Mahindra is among the 10 teams competing in Formula E, the world's first fully-electric racing series.
The inaugural season of the Formula E Racing Series began in Beijing in September 2014 and will run until June 2015.
The competition will go on in ten of the world's major cities including Berlin and London.
Formula E has set a goal of focusing on the vision for the future of the motor industry, accelerating general interest in electric cars and promoting clean energy and sustainability.
The Miami ePrix circuit located in Downtown Miami includes eight corners over the course of the 2.17km track.
Sabeena Wahid
editor@greentechlead.com