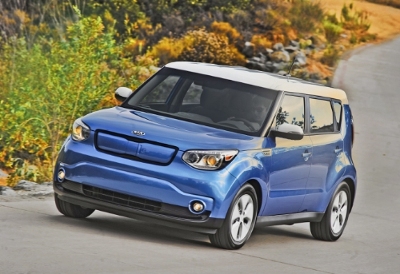 Kia Motors America (KMA) announced expansion of its fully charged urban runabout Soul EV into four new states:  New York, New Jersey, Connecticut, and Maryland.
Soul EV was launched late last year in California, along with sales beginning in Georgia, Texas, Oregon, Washington and Hawaii earlier this year.
KMA's announcement will bring the total number of states selling the Soul EV to 10.
Nineteen Kia dealers will be certified to sell and service the Soul EV across these four states, and customers will have access to charging stations installed at these facilities.
The Soul EV will be sold in eight New York dealerships, six New Jersey dealerships, three Maryland dealerships, and two Connecticut dealerships, the company said.
Orth Hedrick, vice president of product planning, KMA, said, "California consumers created a high level of demand, and the state's large infrastructure made it a natural place to start."
"Between consumer reaction to the Soul EV and growing infrastructure programs in states such as these in the Northeast, this is a logical – and exciting – next step in our rollout plan," Hedrick added.
Soul EV sales in the Northeast will begin in the fourth quarter.  Soul EV owners will easily be able to locate the numerous charging stations using the standard UVO EV Services2 telematics system.
Available at no cost for the first five years of ownership, UVO EV Services utilizes an embedded connectivity solution powered by the Verizon network and an integral smartphone app to provide Soul EV owners with an innovative, real-time, in-vehicle connectivity experience that includes navigation and a host of added convenience features.
Offered in two trims, Base and + (Plus), the 2016 Soul EV MSRP is $33,950 (not including federal tax rebate of $7,500) for the Base and $35,950 (not including federal tax rebate of $7,500) for the Plus.  A lease price of $249/month for the Soul EV Base is also available.
Rajani Baburajan
editor@greentechlead.com