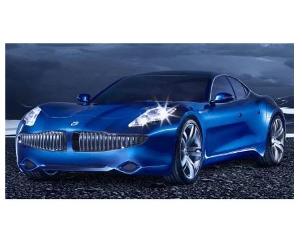 Greentech Lead China: Fisker Automotive, a U.S-based
electric car manufacturer, has announced plans to launch its electric car Karma
in China, this November.
In line with this development the company has appointed
industry veteran Joe Chao as the new executive vice president and CEO of
Fisker's China and Asia operations.
China is a major electric car market for the
California-based electric car manufacturer that is undergoing major setbacks
due to performance issues and financial difficulties.
In December 2011, Fisker recalled the first 239 Karmas
built from July through November 3, 2011, and delivered to the USA, due to a
risk of battery fire caused by coolant leak.
On March 7, 2012, Fisker Karma purchased for $107,850 by
Consumer Reports magazine broke down during a test drive in Connecticut.
The Karma battery pack also got into a controversy in a
fire incident that occurred in Texas in May 2012. The company has denied the
electric car battery is responsible for the fire. Investigations are on.
"We're very excited about having the first
environmental-friendly car with extended range in China, and sort of the first
super car, if you want, that's going to enter China with this type of drive
train," said company founder Henrik Fisker.
With both a plug-in feature and an internal combustion
engine, the Karma is touted as the "world's first high performance
electric luxury vehicle." It has a host of environmental friendly features like
a curved solar power roof that generates electricity when the car is parked.
The interior is made of wood and upholstery that has
either been reclaimed, recycled or reused, while no animal products, such as
leather, are used in the car.
Fisker Karma is powered by a 2.0 liter turbocharged
four-cylinder petrol engine mated with a pair of electric motors to deliver an
output of 403hp and over 1,300Nm of torque.
Its lithium-ion batteries feature allows the vehicle to
achieve up to 80 km on electric power at speeds of up to 200 km/h following a
six-hour charge. If the battery power is exhausted, a small gasoline engine
kicks in as generator stores electricity while driving.
Fisker claims Karma has grown to become the fourth
biggest selling plug-in vehicle in America, while achieving similar success in
Europe. So far this year, the company has produced more than 2,000 vehicles.