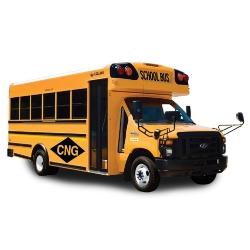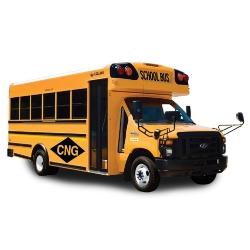 There is a huge demand for CNG buses in the U.S. Over 110,000
vehicles operate on CNG in the U.S. and since 98 percent of all natural gas is
produced in

North America,
operating vehicles on CNG significantly reduces America's dependence on foreign
oil.
CNG, when compared to diesel and gasoline fuels provides a
reduction in greenhouse emissions and has the potential to reduce fuel costs by
25 percent to 40 percent.
In order to utilize the demand for green energy and CNG buses,
Collins Bus Corporation has entered into an agreement with BAF, A Clean Energy
Company, to develop the first Type-A school bus with a Compressed Natural Gas
(CNG) fuel system.
Collins, North
America's largest builder of Type-A school and school activity buses, will be
offering this system as an option on several models starting in the spring of
2012.
BAF is the premier provider of natural gas vehicles under Ford
Motor Company's Qualified Vehicle Modifier (QMV) program.
"We are excited to be leading our industry in alternative
fuel technologies and CNG is the next logical step. Many of our customers
are interested in this technology and our leading dealers are ready to
introduce it to their customers," said Kent
Tyler, president of Collins Bus Corporation.
"BAF brings expertise and a proven system to the market and
Collins is proud of this new partnership. When you combine CNG with our
Propane and Hybrid-Electric offerings, you can see how our team is leading the
field. No other manufacturer offers as many proven options when it comes to
clean energy solutions," Tyler added.
"CNG fuel has a significant environmental and economic
advantage over diesel and gasoline fuels and will offer school districts an
attractive option for their Type-A buses. We are very excited to have partnered
with Collins. They are clearly the leader in the Type-A bus business and
together we will offer their customers the best product available," said Brent Pope, director of Sales at BAF.
Collins has been working on a CNG version of their bus for
several years, but was unable to find a viable option until partnering with
BAF.
The key factor in any alternative engine option is weight.
Just landing on a new concept won't cut it if you can't achieve a practical
range with the passenger capacity you need. We're happy that we can get
both with this option from BAF," Tyler added.
By GreentechLead.com Team